We often talk about the most memorable dresses that actresses wore to a red carpet event, but as awesome as those are, a lot of the time they also wear some pretty impressive jewelry and today is the day we're going to give it the attention it deserves. After all, these accessories are often worth a lot of money and a lot of effort went into making these shiny gems look this good. So let's do this!
1. Beyonce, 2017 Grammys
We talk a lot about her performance at the 2017 Grammys and how incredible she looked in that gold outfit. But do you remember what she wore when she wasn't performing that night? Beyonce definitely loves her bling and this 400-carat necklace made by Lorraine Schwartz was worth 12 million dollars.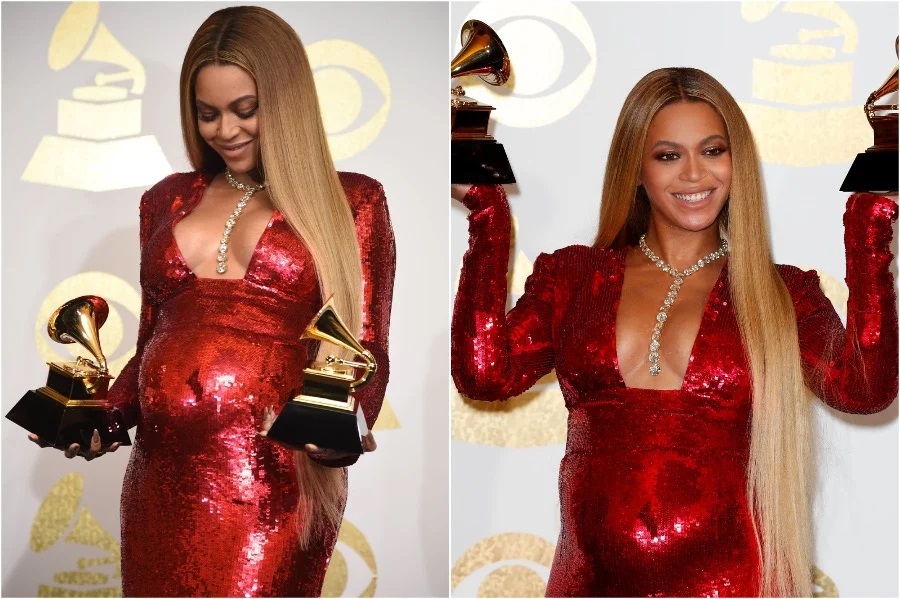 2. Lady Gaga, 2019 Oscars
Lady Gaga wore this massive yellow diamond to the Oscars in 2019 and it almost looked more impressive than the Oscar that she won. The Value of that necklace and earrings combo is estimated at $30 million. And interestingly enough this isn't the first time someone wore this diamond, apparently, it's the same diamond that Audrey Hepburn had in her necklace when she was promoting Breakfast At Tiffany's.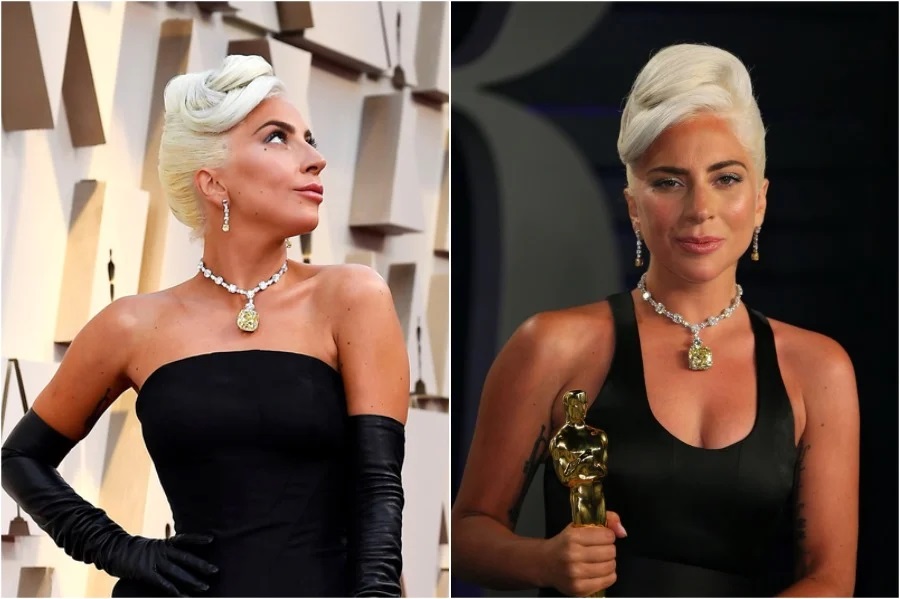 3. Gloria Stuart, 1998 Oscars
We all remember the massive blue heart-shaped necklace from Titanic. The movie definitely set a trend for heart-shaped necklaces for years to come. The actress, Gloria Stuart, who played the old version of Rose in Titanic wore something similar enough to the Oscars. It was a blue diamond necklace that was worth $20 million.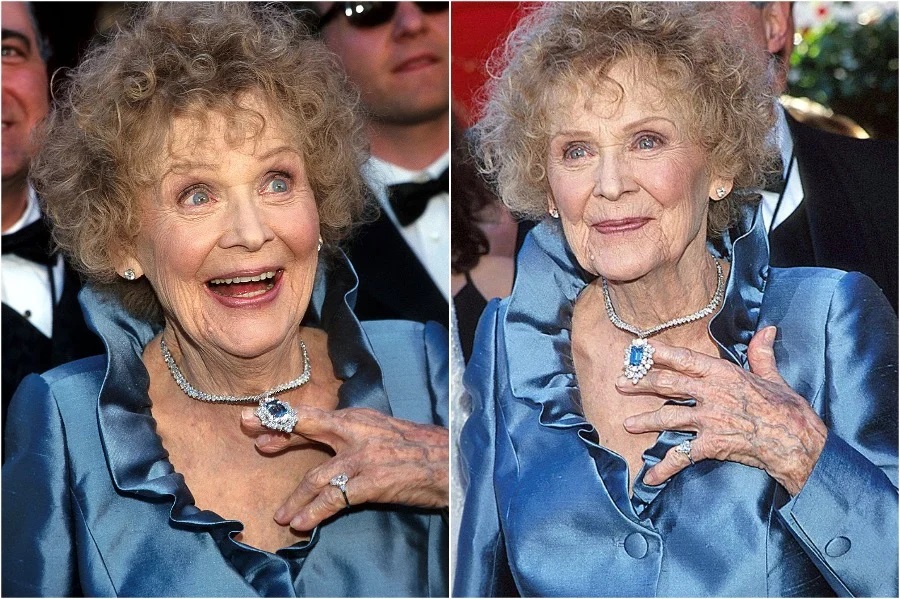 4. Bella Hadid, 2017 Cannes
We don't even want to think about the price tag of a necklace like that, but let's all agree that it's absolutely stunning. Not many people would think to pair a pale pink dress with a massive blue rectangular sapphire but clearly, it works. Then again, we're pretty sure that a sapphire like that works with anything, especially if Bella is wearing it.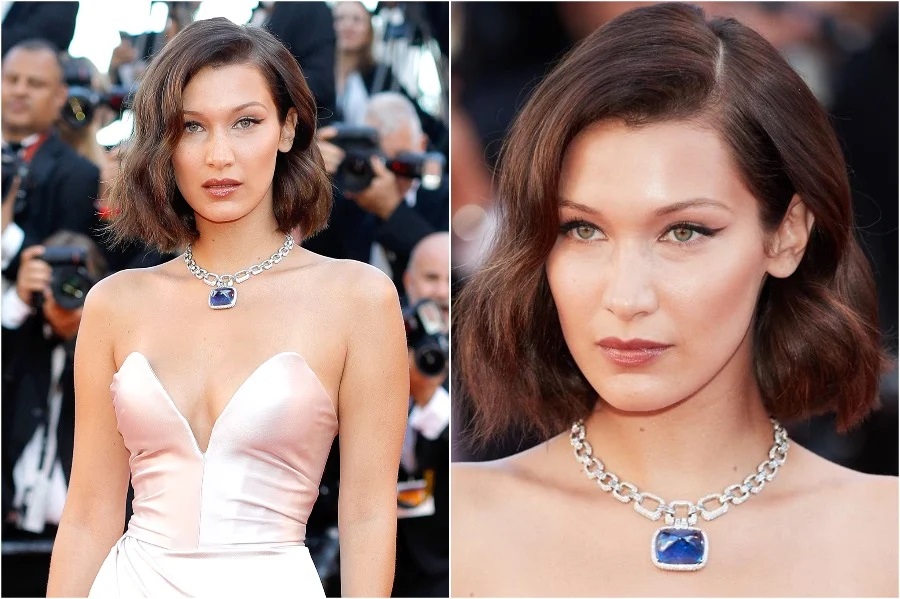 5. Rihanna, 2014 Diamond Ball
Rihanna knows how to dress to impress, that's for sure. We loved the pink ensemble she wore to the Diamond Ball in 2014. What's hard to tell is what's more impressive, the massive pink tear-shaped rubellite or all the diamonds encrusted on the necklace. It's definitely a work of art.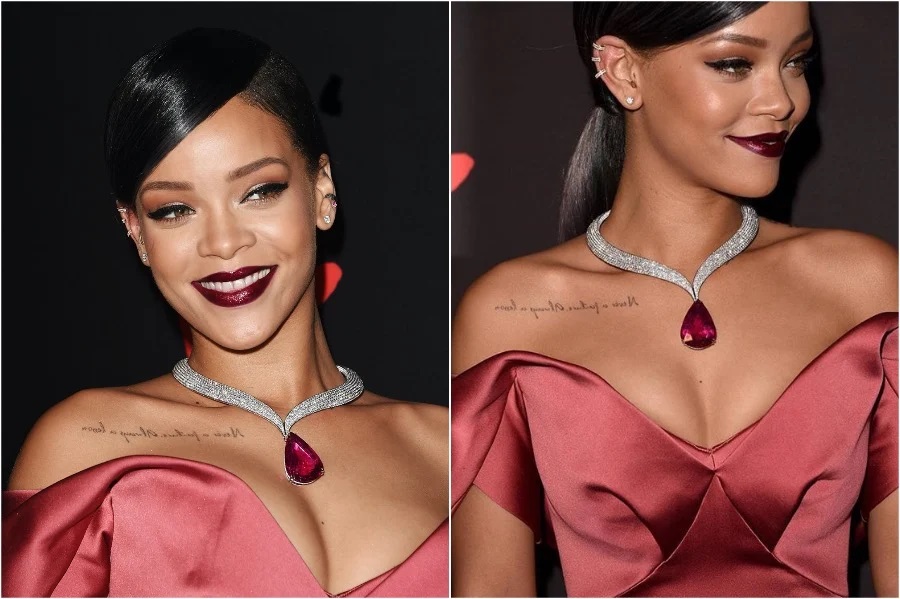 6. Sofia Vergara, 2013 Emmys
When you're Sophia Vergara, you won't be satisfied with just wearing one kind of gemstone. You have to wear them all, at once if possible. So she really did wear ruby, sapphire and emerald earrings to the Emmys. And then she chose to wear a diamond ring on each hand for good measure.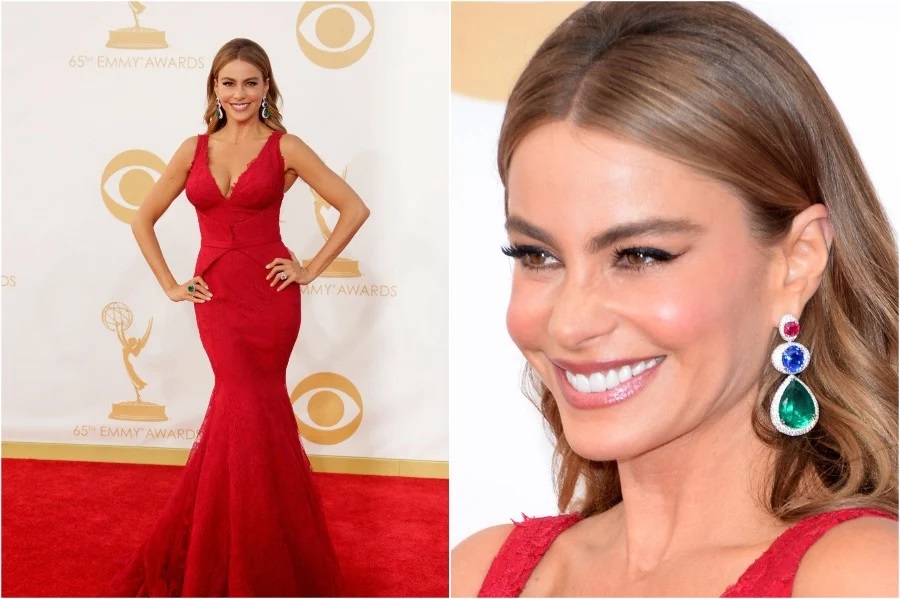 7. Emily Ratajkowski, 2017 Cannes
Emily also likes to dress up to the nines so to the 2017 Cannes Film Festival she wore this elaborate Bulgari necklace that featured rubies, diamonds and even an emerald. You gotta give her props, it's quite a big and colorful necklace to pull off, but wearing it with a simple cream silk dress was definitely a great move.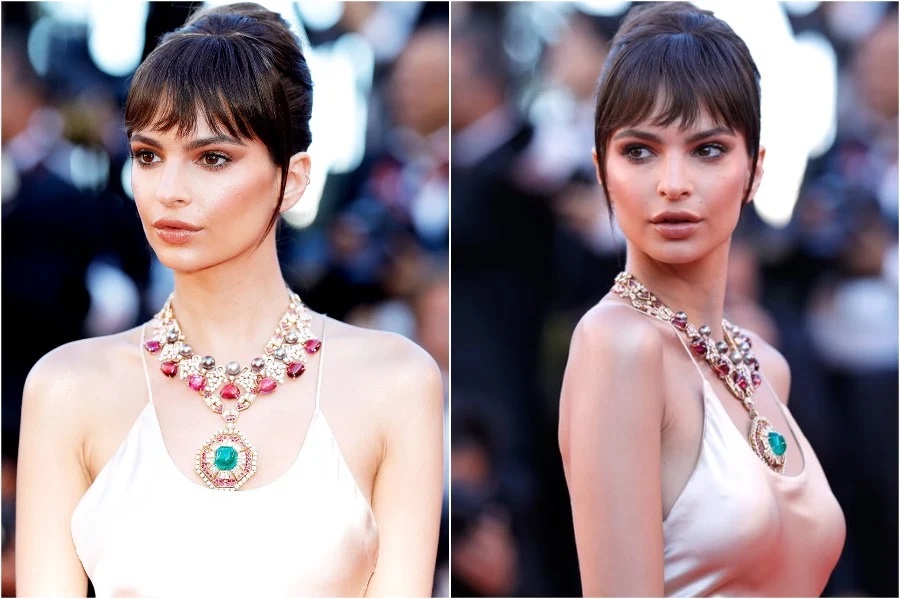 8. Gal Gadot, 2019 Oscars
Wonder Woman, sorry, we mean Gal Gadot, really glammed up for the 2019 Oscars and wore a very art-deco necklace as her main accessory. It was a piece made by Tiffany and it actually features 1000 diamonds.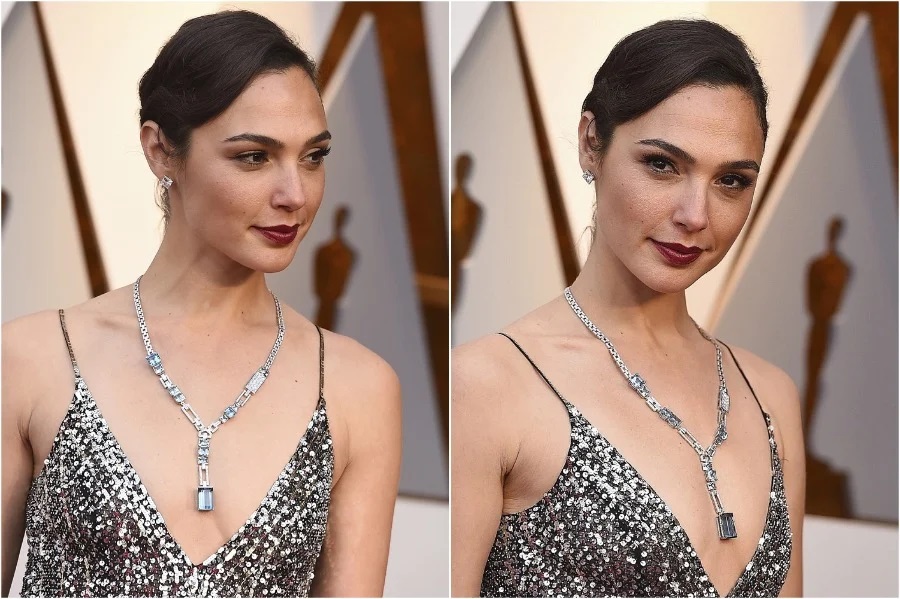 9. Margot Robbie, 2015 Oscars
Margot Robbie definitely looked stunning at the 2015 Oscars. That chunky necklace she's wearing is so cool it has its own name. It's called Zip Antique Columbine and it features sapphires and diamonds encrusted in gold. Oh, and yeah, that zip is fully functional.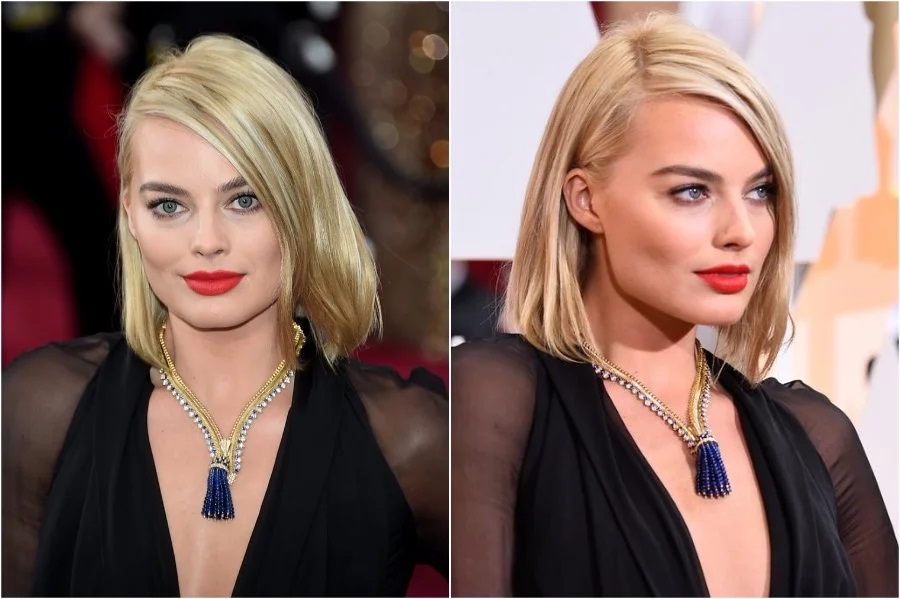 10. Greta Gerwig, 2020 Oscars
This year's Oscars were full of awesome accessories, but Greta Gerwig, the director of Little Woman wore a necklace that just mesmerized us. It featured 9 emeralds surrounded by 49 diamonds. It just looked so good and went so well with her greed dress!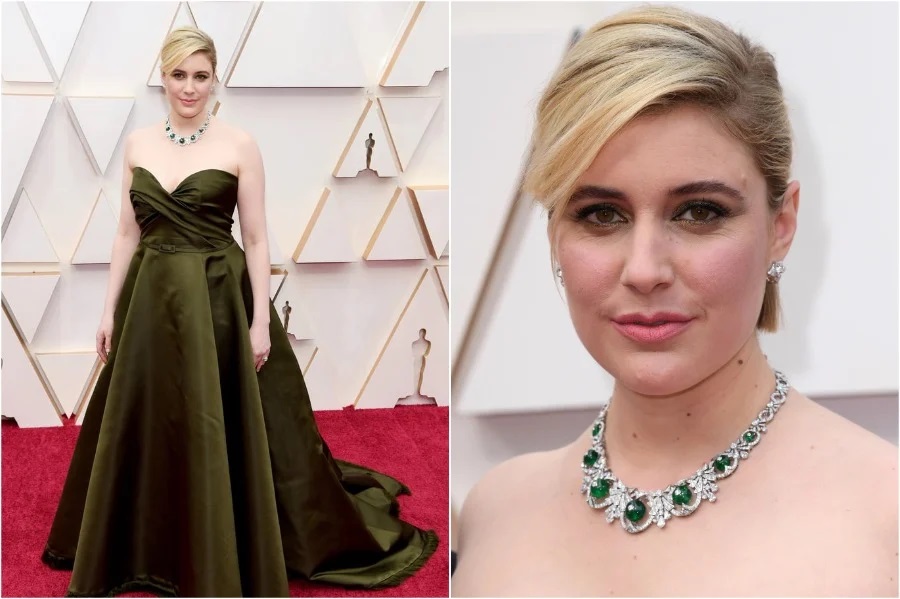 Source : herbeauty