While smartphones and tablets have become dominant in terms of screen time, there's still a significant demand for traditional computers, particularly laptops. Whether it's for school, office work, or tasks like spreadsheet management and video editing, a laptop with a comfortable keyboard and a sizable screen remains indispensable. However, the choice of the right laptop depends on factors such as frequency of use, intended tasks, and budget constraints.
At regular intervals, we conduct thorough testing on a wide range of laptops, including sleek ultrabooks, budget-friendly Chromebooks, and powerful gaming laptops, among others. In this article, we present the top-performing models in each category and offer guidance on selecting the laptop that aligns best with your specific needs.
Mac or Windows (or something else)?
When deciding between macOS, Windows, or another operating system, your familiarity and preferences matter. If you're already comfortable with macOS or Windows, sticking with what you know is often the easiest choice. For example, if you use an iPhone, a MacBook seamlessly integrates with your Apple ecosystem. However, both macOS and Windows have become more similar, and most popular apps work on both platforms.
Consider support availability. Are there nearby Apple Stores for Mac users? Do your tech-savvy friends primarily use Windows? Does your school or workplace offer tech support for a specific platform? If you value robust support, especially if you're not tech-savvy, a Mac is a strong choice due to its comprehensive service options. Otherwise, you can choose based on personal preference.
Alternatively, for tasks that can be done in a web browser without extensive app installations, a Chromebook might suffice, simplifying the operating system decision.
For most people: The best ultrabook
Recommended configuration
| | | | |
| --- | --- | --- | --- |
| Processor: | Intel Core i5-1335U or Core i7-1355U | Screen: | 13.5-inch 1920×1280 touch |
| Memory: | 16 GB | Weight: | 3.01 pounds |
| Storage: | 512 GB SSD | Tested battery life: | 10 hours |
Who should consider ultrabooks:
Ultrabooks are the ideal laptop choice for a wide range of individuals, including college students, writers, office professionals, and commuters. They excel in areas like keyboard quality, screen display, and battery life. They offer sufficient performance capabilities for most everyday computing tasks, all while being slim, lightweight, and highly portable. A quality Windows ultrabook that will serve you well for at least four years typically falls within the price range of $900 to $1,300.
Limitations of ultrabooks:
While ultrabooks deliver an exceptional experience and durability, their price point may exceed the budgets of many users, despite their long-term value. Furthermore, ultrabooks may not be suitable for resource-intensive activities such as high-end gaming, professional video editing, or 3D modeling due to their limited processing power. If you require a more affordable laptop or one with higher performance capabilities, explore our other recommended options below.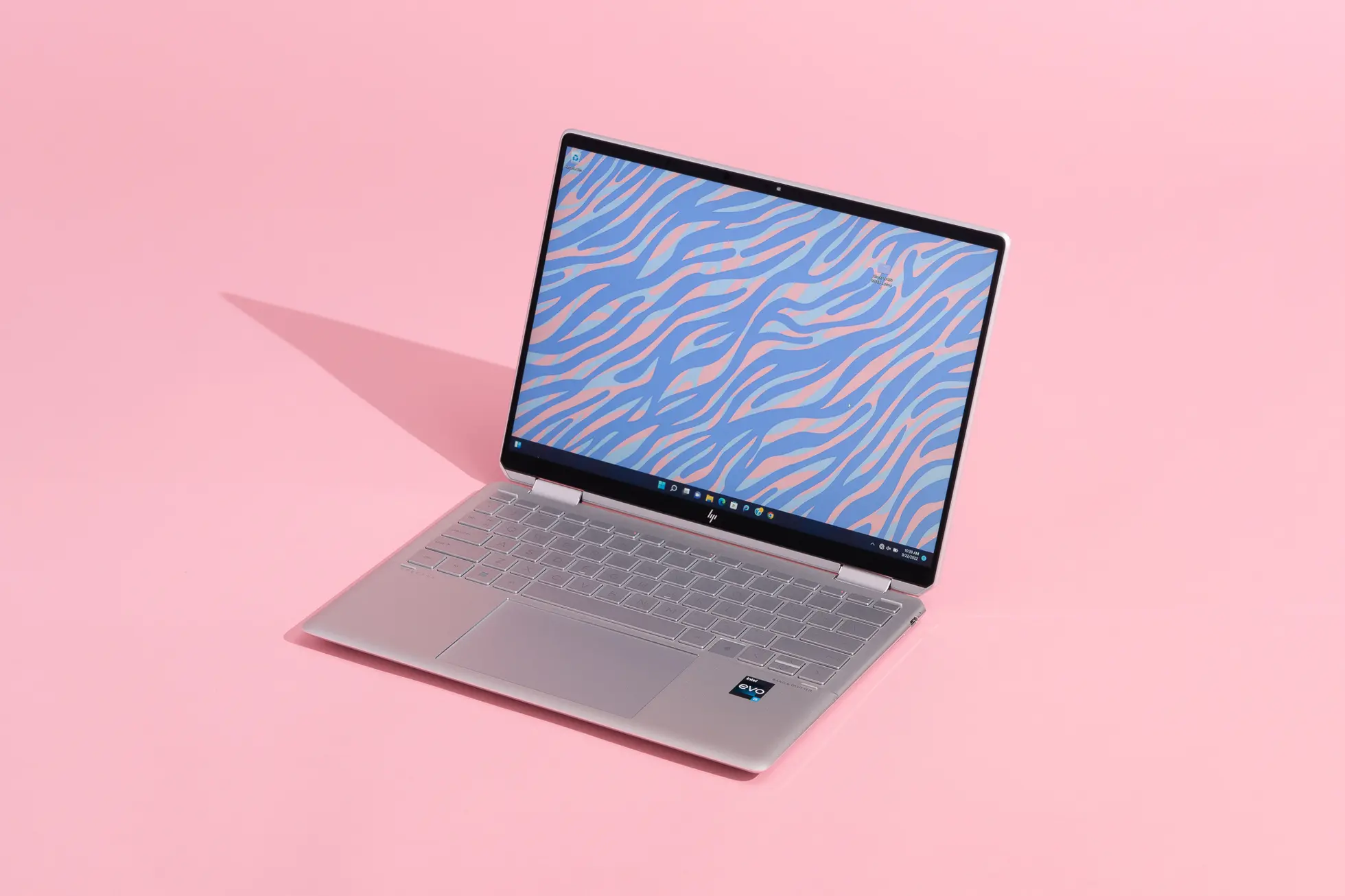 Why we recommend the HP Spectre x360 13.5″:
The HP Spectre x360 13.5″ embodies the perfect blend of qualities that make an ultrabook exceptional. It delivers impressive speed, lasting battery life, a generous and vertically-oriented screen, a high-quality keyboard and trackpad, and an outstanding webcam. Additionally, the Spectre x360 boasts a 360-degree hinge, enabling you to rotate the touchscreen fully, and some models include an active stylus. While it may not be the most lightweight or compact Windows ultrabook available, weighing in at 3 pounds, it remains quite portable. One drawback is the presence of excessive pre-installed software, which we recommend removing upon receiving the laptop.
The best Mac laptop
Recommended configuration
| | | | |
| --- | --- | --- | --- |
| Processor: | eight-core Apple M2 CPU | Storage: | 256 GB SSD |
| Graphics: | eight-core Apple M2 GPU | Screen: | 2560×1664 IPS |
| Memory: | 8 GB | Tested battery life: | 15.5 hours |
Who should consider MacBooks:
If you have a preference for macOS or require top-notch tech support, MacBooks are a dependable choice, with the 13-inch models often striking the ideal balance between size, weight, and performance. They cater well to writers, office professionals, commuters, and college students. Apple's latest MacBook models come equipped with Apple-designed processors that contribute to cooler, quieter operation and exceptional battery life, setting them apart from most laptops. Plan to budget at least $1,000 for a MacBook with specifications and storage capacity suitable for a four-year lifespan.
Limitations of MacBooks:
MacBooks come at a premium price, even more so than Windows ultrabooks, especially if you intend to upgrade memory or storage. Apple's SSD upgrade costs are notably high, making cloud storage or external SSDs potentially more cost-effective alternatives. Additionally, similar to Windows ultrabooks, the recommended MacBook configuration for most users may not offer the processing power required for demanding gaming tasks.
Reasons we recommend this model:
The 13-inch M2 MacBook Air offers robust performance and outstanding battery life while maintaining an affordable price point. What sets it apart is its improved keyboard, which ditches the problematic butterfly switches found in the 2018 and 2019 MacBook Air models in favor of more responsive and reliable scissor switches. Like Apple's other laptops, the MacBook Air comes with a limited number of ports, specifically two Thunderbolt 3/USB-C ports, which might necessitate the use of a hub or updated cables. However, the MacBook Air's lightweight design, durable build quality, and top-notch customer support make it an excellent choice, especially if you already own other Apple devices like an iPhone.


The best business laptop
Recommended configuration
| | | | |
| --- | --- | --- | --- |
| Processor: | Intel Core i5-1240P | Screen: | 14-inch 1920×1200 IPS non-touch |
| Memory: | 8 GB | Weight: | 2.9 pounds |
| Storage: | 256 GB SSD | Tested battery life: | 10 hours |
Who should consider business laptops:
While the majority of individuals may not require a business laptop, there are compelling reasons to opt for one, even if you're personally financing it. These include enhanced long-term durability, simplified serviceability with the option to upgrade RAM and storage, and a more extensive and diverse array of ports compared to ultrabooks. Our top recommendations in this category typically fall within the price range of $1,200 to $1,400.
Limitations of business laptops:
For most users, ultrabooks outperform business laptops due to their slimmer and lighter build, offering comparable performance at a lower cost. Many users don't engage in laptop upgrades or repairs, and if you truly need business-specific features like smart-card support and vPro, your employer likely provides a laptop with those capabilities. While adapters and docking stations may be somewhat inconvenient, they can compensate for the limited port selection on some ultrabooks.
Why we recommend this model:
The HP EliteBook 840 G9 stands out for its slim profile, repairability, and an array of useful ports. This latest iteration addresses many of the concerns we had with the previous EliteBook 840 models that we tested. It features notable improvements, such as a superior 5-megapixel webcam, a redesigned keyboard, and a larger 16:10 display. If any component should malfunction, the laptop is highly repairable, and HP's PartSurfer website simplifies the process of identifying and ordering replacement parts. While we did encounter some parts on backorder, you'll still have the correct part number to search for on platforms like eBay or other resellers. HP also provides a comprehensive service guide that serves as a manual for laptop repairs.


The most repairable laptop
Recommended configuration
| | | | |
| --- | --- | --- | --- |
| Processor: | Intel Core i5-1340P | Screen: | 13.5-inch 2256×1504 non-touch |
| Memory: | 8 GB or 16 GB | Weight: | 2.9 pounds |
| Storage: | 256 GB SSD | Tested battery life: | 7.5 hours |
Who should consider these laptops:
Most modern laptops are not user-repairable or upgradable, making it challenging for individuals without technical expertise to address issues like out-of-warranty repairs, worn-out batteries, or long-term upgrades. In such cases, the entire laptop must be discarded, even if some components are still functional. If you desire the ability to personally upgrade and repair your laptop, extending its lifespan and potentially saving money while reducing e-waste over time, then our recommended repairable laptop option is ideal for you.
Limitations of repairable laptops:
The viability of obtaining parts and upgrades for the Framework Laptop 13 is contingent on the manufacturer, Framework, remaining operational and committed to designing and selling such upgrades. In the event of Framework's closure or a change in its business direction, this laptop may lose its repairability advantage and become akin to other non-upgradable laptops. Past endeavors by other companies to create upgradable laptops have faced challenges in delivering on this promise, so it's essential to consider the manufacturer's commitment and sustainability in the long term.
Why we endorse this laptop:
The Framework Laptop 13 distinguishes itself by offering exceptional ease of repair and upgradability. Framework goes a step further by providing access to all its laptop components for purchase through their website. Every part and screw is thoughtfully labeled, and QR codes are conveniently placed to direct you to comprehensive step-by-step replacement guides, complete with links to the exact parts required. You have the flexibility to expand memory and storage, and if needed, replace or upgrade the battery, mainboard, or any other component that may malfunction—be it the display, fingerprint reader, keyboard, hinge, or any other part. Despite its modular design, the Framework Laptop 13 boasts robust build quality, remarkable slimness, and a lightweight form factor. It features a dependable keyboard and trackpad, along with a spacious and bright display.
Nonetheless, it's important to note that the Framework Laptop 13 falls short in terms of battery life compared to our top ultrabook pick. Moreover, its future upgrade and repairability depend on the company's continued existence and provision of replacement parts. So far, Framework has made promising strides by launching the laptop with 11th-gen Intel processors in 2021 and subsequently delivering mainboard upgrades for 12th- and 13th-gen processors in 2022 and 2023.
We recommend augmenting the base-model Framework Laptop with an additional 8 GB of memory. For those interested in the full experience of assembling their laptop, the DIY Edition offers a broader selection of parts to choose from.
The best cheap ultrabook
Recommended configuration
| | | | |
| --- | --- | --- | --- |
| Processor: | AMD Ryzen 5 7530U or Ryzen 7 7730U | Screen: | 14-inch 2880×1800 OLED touch |
| Memory: | 8 GB or 16 GB | Weight: | 3.06 pounds |
| Storage: | 256 GB or 512 GB SSD | Tested battery life: | 11 hours |
Who should consider these laptops:
Most Windows laptops priced under $500 suffer from issues like bulkiness, heaviness, and inadequate battery life, among other drawbacks. However, by investing a bit more money, you can obtain an ultrabook that comes close to the performance and quality of much pricier alternatives. Budget ultrabooks are a practical choice for students and individuals willing to spend approximately $800 on a laptop.
Limitations of budget ultrabooks:
In comparison to their more expensive ultrabook counterparts, affordable models often compromise on aspects like memory and storage capacity. They may also have larger, less sturdy chassis with inferior build quality, less responsive keyboards and trackpads, dimmer and less color-accurate screens, or a limited number of ports. Nevertheless, if you can locate a budget ultrabook that minimizes these compromises, you stand a chance to save a significant amount of money.
Why we recommend this model:
The Asus Zenbook 14 OLED offers exceptional value for the price. While the base model with 8 GB of memory may not provide the same longevity as our top choices, the version with 16 GB of memory will, for a slightly higher cost. In comparison to the HP Spectre x360 13.5″, the Zenbook 14 is bulkier and has a less premium feel, though it's more robust than many other budget ultrabooks. Its webcam also falls short in terms of quality. However, the Zenbook 14 remains highly portable, with a battery that can withstand a full day of work or classes. It includes a fingerprint reader, comes with a USB-C charger, and its touchpad can function as a number pad—a set of valuable features for an affordable ultrabook.
The Best Chromebook
Recommended configuration
| | | | |
| --- | --- | --- | --- |
| Processor: | MediaTek Kompanio 1380 | Screen: | 13.5-inch 2256×1504 touch |
| Memory: | 8 GB | Weight: | 2.82 pounds |
| Storage: | 128 GB eMMC | Tested battery life: | 10.5 hours |


Who should consider Chromebooks:
Chromebooks are a perfect fit for students, children, and individuals who primarily use a web browser for their computing needs. They are also a practical choice if you are working with a tight budget or already have a capable desktop PC. A quality Chromebook can handle tasks such as document work, video calls, and streaming content, as long as these activities can be performed in a web browser or through Android apps. In the $500 price range, Chromebooks often outshine Windows laptops with better speed, lightweight design, and a sleek appearance. Additionally, Chromebooks are known for their security and ease of maintenance.
Limitations of Chromebooks:
Chromebooks are unable to run software like iTunes, Photoshop, Windows-specific games, or many applications typically used on Mac or Windows computers. They offer limited local storage capacity and function optimally with a consistent internet connection. However, if you rely on web-based email, can manage with Google's web-based office apps or Office 365, and utilize Android app alternatives, along with streaming media online, a Chromebook should be capable of handling most of your computing requirements.
Why we recommend this model:
The Acer Chromebook Spin 513 (CP513-2H-K62Y) stands out as an outstanding Chromebook, offering the best combination of features and affordability based on our testing. Despite sporting a MediaTek processor, it delivers satisfactory performance levels. It boasts a dependable keyboard and trackpad, along with a tall and vibrant touchscreen display. The Spin 513 impresses with its slim and lightweight build, complemented by a battery that can last an entire day of work or classes, making it an excellent choice for those seeking portability. Although we would prefer a lower price point, the Spin 513 unquestionably justifies its cost. (Additionally, we have observed this model occasionally dropping below the $500 mark during sales, which represents an exceptional value.)
The best budget Windows laptop
Recommended configuration
| | | | |
| --- | --- | --- | --- |
| Processor: | Intel Core i3-N305 | Screen: | 14-inch 1920×1200 touch |
| Memory: | 8 GB | Weight: | 3.3 pounds |
| Storage: | 128 GB or 256 GB SSD | Tested battery life: | 8.5 hours |
Who should consider these laptops:
If you require a Windows laptop for home, work, or school, and your budget is limited, you can discover a suitable option for under $500. These laptops cater well to grade-school and middle-school students, individuals on tight budgets, and those who primarily use their laptops at home for tasks like schoolwork, web browsing, financial management, or streaming content in the evening. Lower-priced, lightweight laptops often struggle with adequate performance for everyday activities, while faster, sleeker models tend to come with higher price tags.
Limitations of budget laptops:
To secure a reasonably priced laptop that doesn't feel sluggish, you'll need to accept certain compromises. Many budget laptops with sufficient speed tend to be bulkier, heavier, and equipped with shorter battery life. They often feature low-resolution, subpar screens that aren't visually pleasing. When shopping for a laptop in this price bracket, you must exercise caution to avoid models with slow or outdated processors, inadequate memory, and slow storage.
Why we recommend this model:
The Acer Aspire 3 Spin 14 (A3SP14-31PT) stands out as a capable laptop across all of our recommended configurations, namely 37NV, 38YA, or 32M6. It offers sufficient speed to fulfill the computing needs of most users. Additionally, it boasts a tall, 14-inch 1920×1200 touchscreen display and a versatile 360-degree hinge. Its keyboard and trackpad are both accurate and dependable. Compared to many bulkier Windows laptops in the same price range, the Aspire 3 Spin 14 is more compact and offers superior battery life.
The Aspire 3 Spin 14 initially ships with Windows 11 S mode, which limits app installations to those from the Microsoft Store and restricts web browsing to Microsoft Edge. However, you can switch it to Windows 11 Home for free, enabling you to install any necessary programs. It does come preloaded with a substantial amount of bloatware, and we suggest following recommended steps to remove it.
Selecting a budget laptop can be challenging due to the sheer number of variations available, and their prices frequently change. Furthermore, manufacturers often release and discontinue models without prior notice. If our recommended pick isn't available, consult our comprehensive budget laptop guide for alternative options and guidance on how to shop for a budget laptop that meets your needs.
The best MacBook for photo and video editing
Recommended configuration
| | | | |
| --- | --- | --- | --- |
| Processor: | Apple M2 Pro | Screen: | 16.2-inch 3456×2234 IPS |
| Graphics: | 10-core (integrated) | Weight: | 4.7 pounds |
| Memory: | 16 GB | Tested battery life: | 14.5 hours |
| Storage: | 512 GB SSD | | |
Who should consider these laptops:
Creative professionals engaged in photo and video editing require laptops equipped with several essential features. These include an exceptionally color-accurate screen, sufficient processing power to handle tasks such as working with 4K footage and batch-editing numerous photos, and a battery capable of lasting through a full day of work. While these professional-grade laptops come at a higher price point, typically ranging from $2,000 to $2,500, they offer desktop-level performance even while on the go. Our evaluation for this category encompassed both Windows laptops and MacBooks, with the current recommendation favoring Apple laptops as the best choice for creative professionals. This is especially advantageous for users comfortable with macOS or open to transitioning to it. However, we also have a recommendation for a Windows machine in this category.
Limitations of editing laptops:
Laptops designed for photo and video editing, with color-accurate screens and substantial processing power, tend to be expensive, especially when configured with additional features like increased storage and memory. They also tend to be larger and heavier than ultrabooks, often weighing more than 4 pounds. The powerful processors found in editing laptops generate significant heat, which can render some models uncomfortable to use on your lap during extended work sessions. Notably, the MacBook Pro is not user-serviceable, but Apple offers excellent customer support.
Why we recommend this model:
The 16-inch MacBook Pro unequivocally excels in all aspects of our editing, color accuracy, and battery tests, solidifying its position as the ultimate laptop choice for creative professionals. Its spacious screen provides ample real estate for comfortable video editing, while its color accuracy rivals that of professionally calibrated displays. The inclusion of Apple's M2 Pro processor empowers the laptop to effortlessly handle 4K video editing tasks, and the new M2 Pro processor offers a noteworthy performance boost, boasting up to 30 percent faster performance than the previous M1 Pro. Moreover, the MacBook Pro impresses with its exceptional battery life, sustaining a remarkable 14.5-hour runtime. It features a diverse selection of ports, including three Thunderbolt 4 USB-C ports, an HDMI port, an SD card reader, a headphone jack, and a MagSafe charging port. However, it's important to note that the primary components of this laptop are exceedingly difficult to upgrade or repair independently. If you prioritize user-repairability, our recommendation for a Windows-based editing laptop is presented below.
The best Windows laptop for photo and video editing
Recommended configuration
| | | | |
| --- | --- | --- | --- |
| Processor: | Intel Core i7-12700H | Screen: | 15.6-inch 3456×2160 IPS |
| Graphics: | Nvidia GeForce RTX 3050 | Weight: | 4.3 pounds |
| Memory: | 32 GB | Tested battery life: | 10.5 hours |
| Storage: | 512 GB SSD | | |
Who should consider these laptops:
Creative professionals who have a preference for Windows over MacOS, do not wish to use a Mac, or are compelled to use Windows for compatibility reasons should strongly consider this laptop category. These Windows-based laptops typically offer a slight cost advantage compared to MacBooks, boast a higher degree of repairability, and, naturally, come with the Windows operating system. If you require specific ports or features, you are more likely to find them on a Windows laptop due to the greater diversity of manufacturers and models in the Windows ecosystem, in contrast to Apple's singular MacBook model.
Limitations of Windows laptops:
In our comprehensive testing, Windows laptops, as a whole, did not surpass the performance of the 16-inch MacBook Pro. They often exhibited less color accuracy in their screens, slightly slower processing speeds, and generated more heat near the processor area. Nevertheless, it's important to note that the MacBook Pro set a high benchmark, and our top Windows recommendation still delivered commendable performance in these evaluations.


Why we endorse this model:
Crafted with a focus on visual professionals, the Dell XPS 15 9520 stands out as a well-crafted laptop boasting an exquisite OLED display and formidable computing capabilities. It also provides a comfortable keyboard and an exceptionally spacious trackpad, enhancing the overall working experience by minimizing the feeling of confinement. The laptop offers a straightforward port selection, comprising two Thunderbolt 4 USB-C ports, a non-Thunderbolt USB-C port, an SD card reader, and a headphone jack.
The recommended configuration we suggest is well-suited to fulfill the needs of most editors who are frequently on the move, especially when complemented by a portable SSD. However, for those considering future upgrades to RAM or storage, the XPS 15 9520 simplifies this process by granting easy access to these components—requiring nothing more than the removal of the laptop's bottom case cover using a Torx screwdriver.