Kim Kardashian's Unexpected Triumph in 'American Horror Story Delicate'
Exploring the Unexpected Star Power in the Series
When it comes to the realm of television, certain names are synonymous with reality shows, fashion, and pop culture. One such name is Kim Kardashian. Known for her influential presence in the world of entertainment, fashion, and beauty, Kim Kardashian recently took a surprising turn by making her scripted TV debut in the latest season of "American Horror Story: Delicate." The verdict? She's the standout reason to watch.
A Not-So-Typical Debut
Kim Kardashian's transition from reality TV to scripted drama has been met with intrigue and skepticism. "American Horror Story," known for its eerie and mysterious narratives, may seem like an unusual choice for her debut in scripted television. However, early reviews and reactions to her performance have been unexpectedly positive.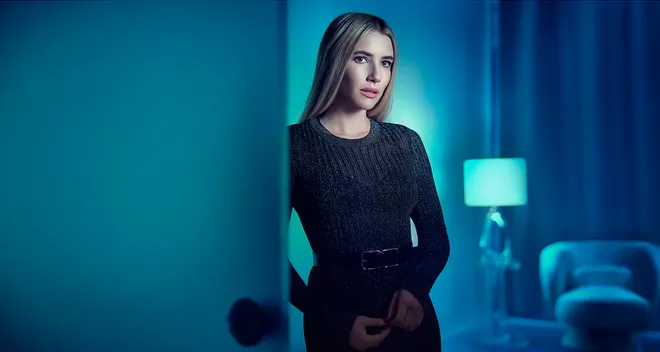 The Reviews Speak
USA Today's review boldly declared, "Kim Kardashian is the only reason to watch the awful American Horror Story: Delicate." It's a statement that's catching the attention of both fans and critics alike. But what makes her appearance in the series so noteworthy?
Star Quality and Confidence
Critics have pointed out that Kim Kardashian's "star quality" and "confidence" shine through in her role. While the series may have its own unique brand of horror, Kardashian's presence adds a different kind of intrigue. She seems to have seamlessly adapted to the eerie world of "American Horror Story," surprising viewers with her acting abilities.
Her character, Siobhan, an entertainment industry professional, allows her to showcase her versatility as an actress. The character is complex, and Kardashian's portrayal has received praise for her ability to convey a wide range of emotions.
More Natural Than Ever
One reviewer humorously noted, "Hell, she seems more natural in AHS: Delicate than she does in a…"—well, you can imagine the ellipsis. The unexpected ease with which Kardashian has settled into her character has certainly impressed those who were skeptical about her transition from reality TV to scripted drama.
The Impact of Kim Kardashian
While opinions on "American Horror Story: Delicate" as a series may vary, one thing is clear: Kim Kardashian's presence has added a unique flavor to the show. Her confident performance and surprising adaptability have made her the talk of the town.
As the season unfolds, it will be interesting to see how Kim Kardashian's character evolves and how her acting skills continue to impress both fans and critics alike.
Advertisement. Scroll to continue reading.
Final Thoughts
So, whether you're a fan of the horror genre or simply curious about Kim Kardashian's venture into scripted television, "American Horror Story: Delicate" might just be worth a watch for her standout performance alone.
As the series progresses, we anticipate more unexpected twists, eerie narratives, and, of course, Kim Kardashian continuing to shine in her role.
Stay tuned for more updates and surprises in the world of entertainment!