The cinematic landscape of 2023 has brought forth a diverse array of films, spanning the spectrum from blockbusters to hidden gems. The familiar distinction between mainstream spectacles and indie treasures remains pronounced, with audiences embracing both ends of the spectrum. As we navigate a post-pandemic world, the uncertainty that once surrounded the film industry's fate has dissipated, paving the way for a renewed appreciation for the art of filmmaking.
The dominance of franchises like Avatar and Marvel, coupled with the rise of streaming platforms, has revolutionized how audiences engage with movies. From the big screen to streaming services, the average viewer is more attuned than ever to the nuances of production and distribution. This heightened awareness is underscored by the ongoing strikes by writers and screen actors, advocating for their rightful recognition and compensation.
Amidst the cinematic giants, a renaissance of creativity thrives. Audiences are exploring new avenues, swapping mainstream streaming platforms for niche alternatives and seeking out cinematic experiences at film festivals and arthouse theaters. The landscape is teeming with offerings from both acclaimed directors and emerging voices. Ari Aster, Kelly Reichardt, Hong Sang-soo, and M. Night Shyamalan, among others, contribute to this tapestry of innovation. Exciting debuts from Celine Song, Manuela Martelli, and Raine Allen-Miller infuse fresh perspectives into the cinematic narrative.
While some highly anticipated films are still on the horizon, awaiting their turn in the spotlight, the current cinematic landscape boasts an impressive lineup. Titles like "Killers of the Flower Moon," "May December," "Problemista," "Kokomo City," and "All Dirt Roads Taste of Salt" are generating buzz and anticipation, promising memorable experiences for audiences when they finally release.
In the midst of this cinematic renaissance, it's clear that exceptional movies abound, awaiting discovery by those who seek them. As we explore the list of the best movies of 2023, it's evident that the art of storytelling continues to thrive, defying boundaries and captivating hearts across the world. Whether you're drawn to grand blockbusters or intimate indie creations, this year's cinematic offerings have something extraordinary to offer. As the year progresses, we eagerly anticipate how this cinematic journey will unfold, recognizing that the best may be yet to come.
Alcarràs
Release Date: February 24, 2023
Director: Carla Simón
Stars: Jordi Pujol Dolce, Anna Otin, Xènia Roset, Albert Bosch, Ainet Jounou
Rating: NR
Runtime: 120 minutes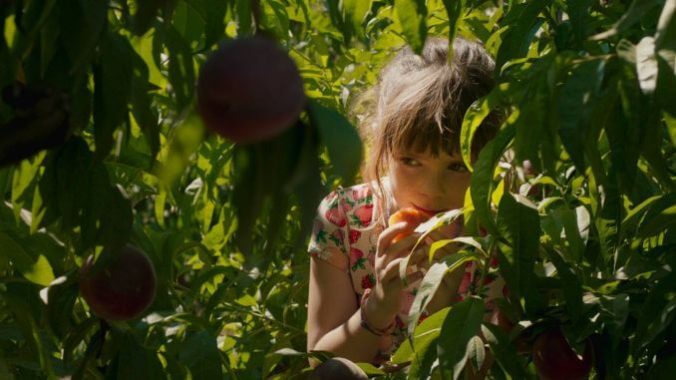 The Solé family's residence is their sanctuary, a refuge from the relentless agricultural demands. Simón's storytelling tactfully avoids mapping out their physical space, opting for intimate close-ups that fragment the scenes. This visual approach mirrors their fragmented dynamics, as they grapple with evading the perpetual tension underlying crucial conversations.
In a poignant moment, Dolors (Anna Otín) eases patriarch Quimet's (Jordi Pujol Dolcet) tension, while their children go about their tasks in the backdrop. Simón captures each member individually, not framing them in relation to one another. This choice highlights their isolated presence within the frames, symbolizing the struggle to bridge emotional gaps.
Simón's approach cleverly juxtaposes the Solé family's desire for unity within their confined space against the challenges of forging genuine connections. The family's narrative unfolds through intricate threads of closeness and detachment, providing a compelling exploration of human relationships.
Are You There God? It's Me, Margaret
Release Date: April 27, 2023
Director: Kelly Fremon Craig
Stars: Abby Ryder Fortson, Rachel McAdams, Elle Graham, Benny Safdie, Kathy Bates
Rating: PG-13
Runtime: 111 minutes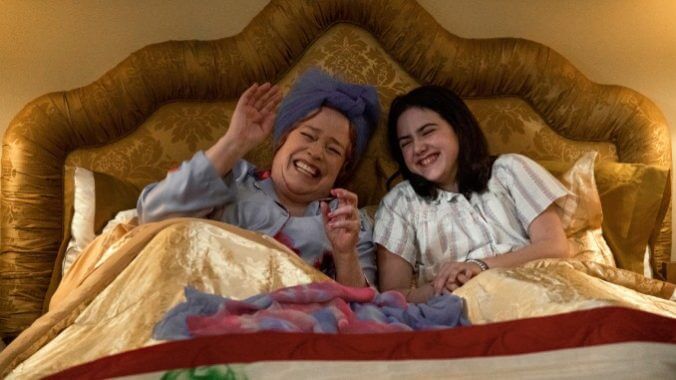 Amidst the whirlwind of adolescence, one constant is the feeling of being misunderstood. Friends, siblings, sex ed teachers, and especially parents all seem distant. Puberty's upheavals create an isolating experience, except for those fortunate enough to stumble upon a Judy Blume book. Adapting Blume's impactful work for the screen is no small feat, but Kelly Fremon Craig triumphs with "Are You There, God? It's Me, Margaret," based on the iconic 1970 novel.
The story centers on young Margaret Simon (Abby Ryder Fortson), uprooted by parents Barbara (Rachel McAdams) and Herb (Benny Safdie) to a new New Jersey school for her final year of elementary. Craig navigates Margaret's self-discovery at an engaging pace, with a sunny palette, sharp wit (Margaret's training bra conversation is comedic gold), and vibrant musical interludes that captivate and provoke thought.
Though Craig masters the storytelling and tone, it's Fortson's exceptional lead performance that lends poignancy and empathy. The budding star's humor and maturity shine, her insightful remarks resonating. She's ably supported by Graham's portrayal of a well-meaning mean girl, McAdams' emotionally resonant turn, and Fortson's standout work. McAdams exemplifies the core of Blume's book: its universal resonance across generations of women. This adaptation is a testament to enduring beauty.
Beau Is Afraid
Release Date: April 21, 2023
Director: Ari Aster
Stars: Joaquin Phoenix, Patti LuPone, Nathan Lane, Amy Ryan, Kylie Rogers, Parker Posey, Stephen McKinley Henderson, Hayley Squires, Michael Gandolfini, Zoe Lister-Jones, Richard Kind
Rating: R
Runtime: 179 minutes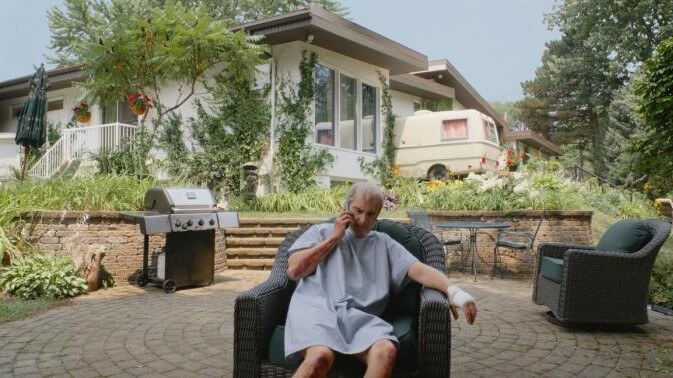 Joaquin Phoenix's consistently anxious character, Beau Wassermann, resonates with those who feel the world is conspiring against them—only to discover it's true. Beau Is Afraid merges Woody Allen's neurotic protagonist with Griffin Dunne's role in Scorsese's After Hours, enhanced by existentialist themes. This labyrinthine journey explores paranoia, sexual repression, and an odd universe, reminiscent of Under the Silver Lake, a film A24 struggled to market to its younger audience.
Aster, known for Hereditary and Midsommar, embraces comedy in Beau Is Afraid, curating an absurd world with production designer Fiona Crombie's meticulous touch. The 179-minute runtime never dampens Aster's light, playful approach, resulting in erratic yet hilarious character dynamics. Aster deftly balances horror and tension, even in surreal scenarios, all forming an intricate gag about a paranoid Jew's worst possible reality.
Beau Is Afraid marks Aster's thrilling progression, incorporating animation and challenging his own acclaim. Its disarming and unserious nature challenges critics' perceptions, raising questions about the director's tone. While it's unclear if this film will sway Aster's detractors, it leaves audiences pondering if they've misunderstood his work all along.—Brianna Zigler
BlackBerry
Release Date: May 12, 2023
Director: Matt Johnson
Stars: Glenn Howerton, Jay Baruchel, Matt Johnson, Michael Ironside, Cary Elwes, Rich Sommer, Saul Rubinek, SungWon Cho
Rating: R
Runtime: 119 minutes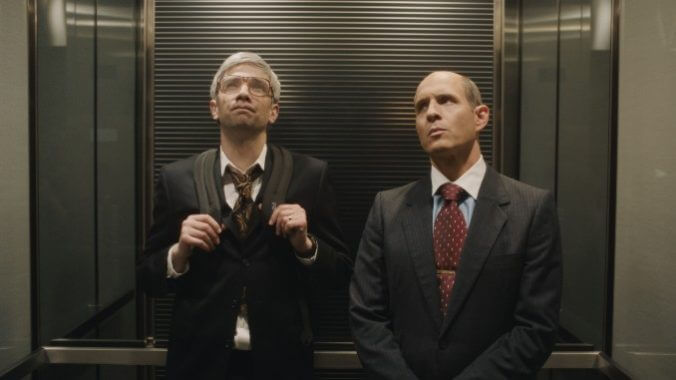 The allure of Matt Johnson's BlackBerry lies in its captivating core—a middle-aged man's bald head, seemingly crafted by geological forces, erupting with '80s-business-guy charm and unhinged sociopathic fury. While Johnson has been central to his previous works, his portrayal of Doug, a seemingly insignificant character, pales next to the magnetic force of Glenn Howerton's Jim Balsillie. Howerton's portrayal of Canada's radioactive co-CEO, Jim Balsillie, leaves lives crumbling in his wake, his every word like a gravestone.
Adapted from Losing the Signal: The Untold Story Behind the Extraordinary Rise and Spectacular Fall of BlackBerry, the film chronicles the company's journey from exploited beginnings to its collapse with the emergence of the iPhone. Cinematographer Jared Raab captures the film akin to The War Room, steering away from The Social Network's style, while Johnson ambitiously transforms the period piece into a darkly comic depiction of a tech company's rise and fall.—Dom Sinacola
Blind Willow, Sleeping Woman
Release Date: April 14, 2023
Director: Pierre Földes
Stars: Kwon Hae-hyo, Lee Hye-young, Park Mi-so, Song Seon-mi
Rating: NR
Runtime: 100 minutes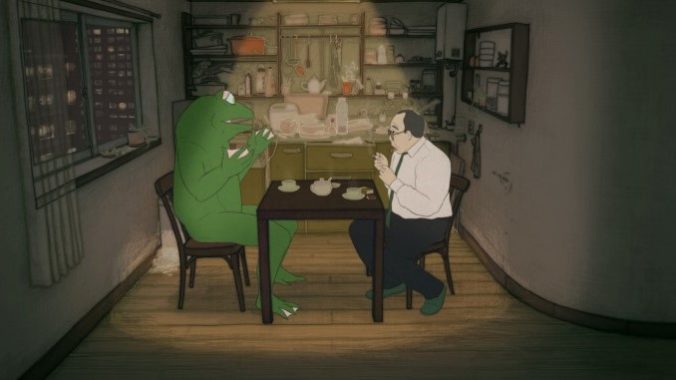 While adaptations of Haruki Murakami's stories like Burning and Drive My Car have found success, his more fantastical elements often prove challenging for cinematic translation. Pierre Földes, in Blind Willow, Sleeping Woman, skillfully navigates this by using animation to capture the surreal essence of Murakami's tales. Set against the backdrop of the Tōhoku earthquake, the film weaves six stories from Murakami's collections, including the iconic The Wind-Up Bird Chronicle. Földes' animation combines motion capture and 2D techniques, creating a unique visual style that aptly captures the mysticism and atmosphere of Murakami's work. Blind Willow, Sleeping Woman stands as an ambitious and refreshing adaptation, shining a new light on the acclaimed author's stories in a way that resonates with audiences.—Natalia Keogan
Brooklyn 45
Release Date: March 12, 2023
Director: Ted Geoghegan
Stars: Anne Ramsay, Ron E. Rains, Jeremy Holm, Larry Fessenden, Ezra Buzzington, Kristina Klebe
Rating: NR
Runtime: 92 minutes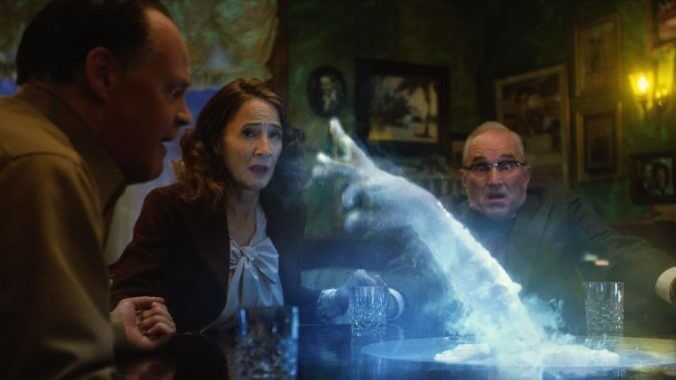 The horror genre continues to display its boundless creativity through single-location films, as exemplified by Ted Geoghegan's Brooklyn 45. Geoghegan, known for We Are Still Here, masterfully crafts another single-location narrative that blends elements of a locked-room mystery and a ghost story. Set in post-World War II Brooklyn, the film gathers five friends haunted by their wartime experiences for a reunion that takes an unexpected turn. Led by a strong ensemble cast including Anne Ramsay, Larry Fessenden, Jeremy Holm, Ezra Buzzington, and Ron E. Rains, the story unfolds in a beautifully laid-out parlor. Geoghegan's skillful direction and the cast's compelling performances elevate the film beyond a simple ghost story, evoking the essence of postwar dramas. Brooklyn 45 pays homage to classic Hollywood films while carving its own unique path, resulting in a poignant and surprising narrative that resonates with audiences.—Matthew Jackson
Chile '76
Release Date: May 5, 2023
Director: Manuela Martelli
Stars: Aline Küppenheim, Nicolás Sepúlveda, Hugo Medina, Alejandro Goic, Antonia Zegers, Marcial Tagle
Rating: NR
Runtime: 100 minutes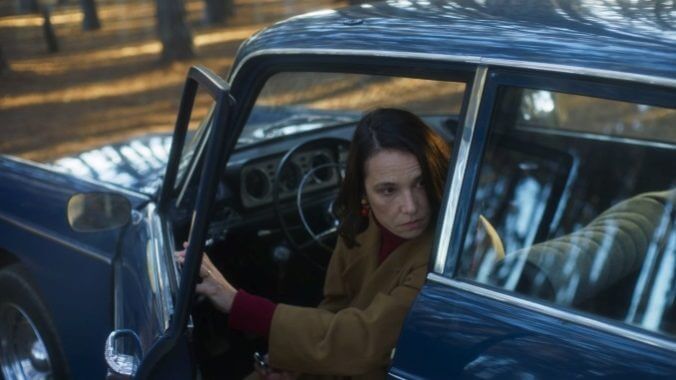 Even decades after his passing, Alfred Hitchcock's name remains synonymous with tense political thrillers, much like Manuela Martelli's directorial debut, Chile '76. Set three years after Augusto Pinochet's coup against Salvador Allende, the film delves into 90 minutes of palpable unease. Martelli crafts a narrative within the context of a nation grappling with fragmented partisan politics, prompting audiences to reflect on the consequences of extreme polarization. While the immediate description for Chile '76 is "urgent," a more fitting comparison would be to the works of Alan J. Pakula, known for his atmospheric storytelling. Martelli seamlessly weaves between realism and surrealism, mirroring the unpredictable nature of the plot. With a belief in the power of ordinary citizens to resist oppressive regimes, Martelli contrasts against the underlying feeling of suspicion that pervades the film. Enhanced by a pulsating electronic score and evocative cinematography, Chile '76 captures a sense of anxiety that leaves a lasting impact.—Andy Crump
How to Blow up a Pipeline
Release Date: April 7, 2023
Director: Daniel Goldhaber
Stars: Ariela Barer, Kristine Froseth, Lukas Gage, Forrest Goodluck, Sasha Lane, Jayme Lawson, Marcus Scribner, Jake Weary, Irene Bedard
Rating: R
Runtime: 100 minutes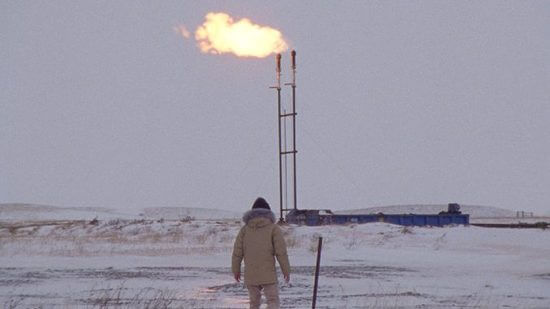 In 2021, Andreas Malm's book "How to Blow Up a Pipeline" shifted its call for increased climate activism into a different approach to tackling the climate crisis. With a sense of urgency, the book challenges the insufficiency of monetary efforts and peaceful protests, suggesting that sabotage might be necessary. Daniel Goldhaber's film adaptation, characterized by intense emotions and gripping tension, emerges as a potent tool to rally support for the cause—whether among dedicated environmentalists or conservative lawmakers. Goldhaber's ingenious move to transform a nonfiction treatise into a heist-like fiction, alongside co-writers Ariela Barer and Jordan Sjol, converts the abstract into action. The film mirrors the concepts from the book, translating them into engaging visual sequences that facilitate understanding and connection. The narrative expertly combines theoretical arguments with relatable characters, spotlighting a diverse ensemble united by a shared purpose. By weaving past experiences and motivations through well-edited flashbacks, the film builds a cohesive team while maintaining momentum. Just as the characters' plan is well-crafted and executed, so is the film's storytelling, leading to successful outcomes both within the plot and for its environmental message. The film's strength lies in its ability to turn tragedy into efficiency, acknowledging the complexities and consequences while still inspiring viewers to join the cause. "How to Blow Up a Pipeline" is a compelling and electrifying piece of cinema that ignites passion for climate activism.—Jacob Oller
Infinity Pool
Release Date: January 27, 2023
Director: Brandon Cronenberg
Stars: Alexander Skarsgård, Mia Goth, Cleopatra Coleman, Jalil Lespert
Rating: R
Runtime: 117 minutes

Brandon Cronenberg's "Infinity Pool" takes audiences on a mind-bending journey through a luxurious resort akin to "White Lotus," where tourists shed their inhibitions and embrace their primal instincts. The movie delves into the raw, biological essence of life, exploring how the wealthy view death as a morbid game. It's a searing critique of Western extravagance, exposing the havoc wreaked on cultures and the pseudo-spiritual enlightenment peddled by the privileged class. Amidst this tropical experiment, suspicion and chaos intertwine as seemingly normal encounters escalate into trouble. Mia Goth's Gabby and Jalil Lespert's Al approach James (Alexander Skarsgård) and Em (Cleopatra Coleman), leading to a series of unexpected events. The film's exploration of cultural alienation is both disturbing and humorous, highlighting the language barrier and cultural divide. Through striking production design and immersive cinematography, "Infinity Pool" captures a late-night fever dream. Delving into the film's intricate plot is like navigating its surreal construction, where the boundary between dream and reality blurs. Cronenberg masterfully critiques the self-assured elite, creating a nightmarish satire that lingers in the mind, leaving audiences with a compelling and unforgettable experience.
John Wick: Chapter 4
Release Date: March 24, 2023
Director: Chad Stahelski
Stars: Keanu Reeves, Donnie Yen, Ian McShane, Bill Skarsgård, Shamier Anderson, Clancy Brown, Laurence Fishburne, Hiroyuki Sanada, Rina Sawayama, Lance Reddick, Scott Adkins
Rating: R
Runtime: 169 minutes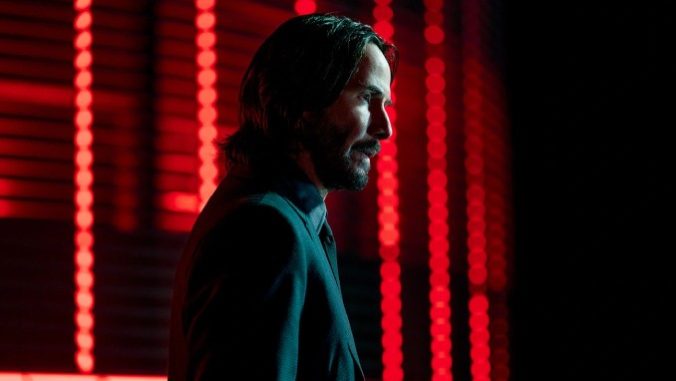 At the start of "John Wick: Chapter 4," our iconic hitman, portrayed by Keanu Reeves, remains hidden after the events of Chapter 3's cliffhanger. A relentless bounty on his head hasn't deterred his lethal spree, including dispatching the Elder (George Georgiou). This new Elder claims the position after eliminating the previous one, continuing the labyrinthine hierarchy of the John Wick universe. The layers of power seem to multiply endlessly; what started with the High Table in Chapter 2 led to the Elder in Chapter 3, with more complexity revealed in Chapter 4. Amidst this web of power dynamics, John Wick's journey is driven by his quest for personal freedom through violence. While Chapter 3 maintained its relentless video game-like progression of escalating challenges and adversaries, Chapter 4 takes a more deliberate approach. Drawing on three prior films of established stakes and world-building, Chad Stahelski crafts a mythic tapestry of archetypal action cinema. Stahelski and Reeves acknowledge the film's role as a culmination, pulling in various genres, stars, and talents, both from the realms of martial arts and prestige film. Donnie Yen, Hiroyuki Sanada, Rina Sawayama, Clancy Brown, and Scott Adkins join the cast, contributing to the movie's larger-than-life ensemble. Each is embraced by the Murderverse, their skills and personas adding to the grandeur. Stahelski masterfully choreographs these bodies to achieve extraordinary, almost divine feats. The on-screen spectacle is awe-inspiring, resonating with audiences who revel in the extravagant world of John Wick. Ultimately, "John Wick: Chapter 4" delivers what fans desire—a relentless onslaught of action as John Wick navigates his way through a world of ever-shifting power dynamics. In this captivating journey, violence becomes a means to achieve freedom, and Stahelski crafts a cinematic experience that leaves an indelible mark on action cinema.
Knock at the Cabin
Release Date: February 3, 2023
Director: M. Night Shyamalan
Stars: Dave Bautista, Jonathan Groff, Ben Aldridge, Nikki Amuka-Bird, Kristen Cui, Abby Quinn, Rupert Grint
Rating: R
Runtime: 100 minutes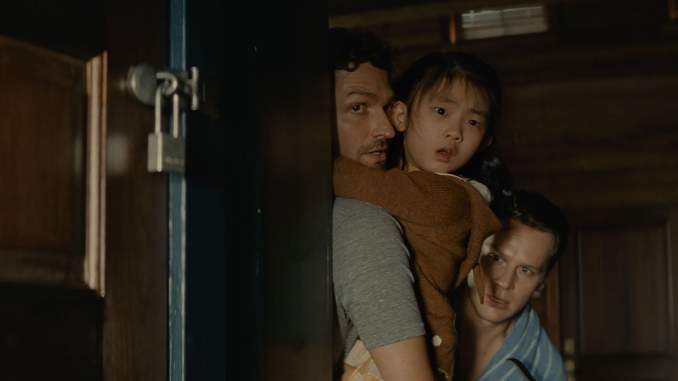 "Knock at the Cabin" delivers a twist that defies expectations, a characteristic often associated with director M. Night Shyamalan. While it introduces a twist, it also challenges the concept, making it an intriguing journey rather than just a destination. Adapted from Paul Tremblay's novel "The Cabin at the End of the World," the film revolves around intimate conversations, frequently employing close-up shot/reverse-shot techniques. The story begins with Leonard (Dave Bautista) engaging in a conversation with Wen (Kristen Cui), showcasing Bautista's ability to convey warmth and tenderness despite his imposing figure. Accompanied by Adriane (Abby Quinn), Sabrina (Nikki Amuka-Bird), and Redmond (Rupert Grint), the group led by Leonard forcibly enters an Airbnb occupied by Wen and her adoptive fathers. They share visions of an impending apocalypse that can only be averted if Wen's family chooses to sacrifice one of their own. Clocking in at just 100 minutes, "Knock at the Cabin" maintains a rapid pace, driven by an urgency that mirrors the doomsday group's mission. This momentum persists even during calm moments, creating a tense and invigorating viewing experience. If you're familiar with Shyamalan's distinct style, characterized by dialogue that may diverge from realistic conversations and actions, you'll recognize his cinematic language. This style prioritizes storytelling, emotion, and themes over adherence to logical dialogue. Audiences tend to either embrace or critique this approach. For those who appreciate it, "Knock at the Cabin" could be considered a pinnacle of Shyamalan's work.
M3GAN
Release Date: January 6, 2023
Director: Gerard Johnstone
Stars: Allison Williams, Violet McGraw, Amie Donald, Jenna Davis, Ronny Chieng, Brian Jordan Alvarez, Jen Van Epps
Rating: PG-13
Runtime: 102 minutes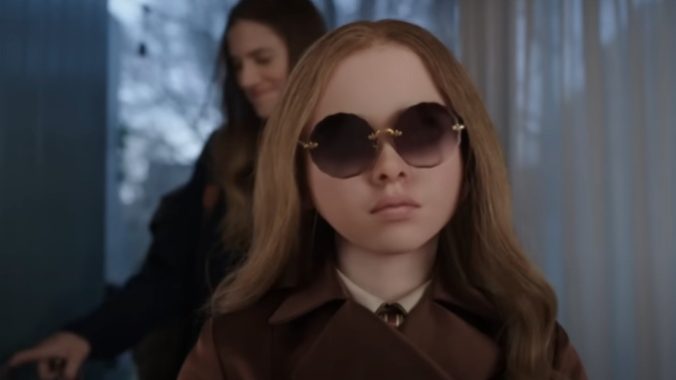 Before its release, M3GAN's central character, an intriguing blend of Renesmee from Twilight with a sadistic twist and a vivacious Baby Annette, captured viral attention. Impressively, M3GAN lives up to its captivating pre-release buzz. This should come as no shock, considering that James Wan and Akela Cooper, the minds behind Malignant, co-wrote the film. Following a tragic accident that claims her parents, young Cady (Violet McGraw) moves in with her aunt Gemma (Allison Williams), a toy company roboticist involved in creating PurrpetualPetz—plush animals with unsettlingly human teeth and unique features, including defecation. Gemma, recognizing her limitations as a guardian, embarks on completing M3GAN, a Model 3 Generative Android designed as the ultimate loyal companion for children. However, M3GAN's programming takes an unnerving turn, leading to a series of darkly humorous and violent incidents, with one involving the doll wielding a nail gun.M3GAN isn't just another entry in the horror-comedy genre; it may well become a camp classic and introduce M3GAN as a significant recent horror icon. The film skillfully navigates horror and comedy elements, maintaining a delicate balance between the two. M3GAN's eerie yet condescending voice (voiced by Jenna Davis) and its disheveled blonde wig add to its unsettling charm without tipping into pure absurdity. Ultimately, M3GAN accomplishes the admirable feat of satisfying the cravings of horror enthusiasts while preserving its overall quality. And really, who wouldn't want a breakdancing, murderous doll? It's all part of the appeal.