Jeans are a staple in most wardrobes, offering versatility and style. When it comes to choosing the right pair, one crucial factor to consider is the rise – the distance between the crotch and the waistband. Low-rise and high-rise jeans are two popular options with distinct characteristics. In this blog post, we'll explore the differences between low-rise and high-rise jeans, their pros and cons, and provide tips to help you determine which style suits you best. Get ready to find your perfect fit!

Low-Rise Jeans:
Low-rise jeans sit below the natural waistline, typically around the hips. Here are some key features and considerations:
Style and Fashion: Low-rise jeans gained popularity in the early 2000s and are known for their modern, casual, and trendy look.
Body Types: Low-rise jeans are often preferred by individuals with longer torsos, as they create the illusion of a longer waist. They can also flatter hourglass or pear-shaped figures.
Clothing Pairings: Low-rise jeans work well with shorter tops, crop tops, or layered looks. They provide an opportunity to showcase belts or emphasize the hip area.
Comfort and Movement: Some wearers find low-rise jeans comfortable for daily activities as they offer a relaxed fit and freedom of movement around the hips.

High-Rise Jeans:
High-rise jeans sit at or above the natural waistline, offering a more classic and vintage aesthetic. Consider the following points:
Style and Fashion: High-rise jeans have made a strong comeback in recent years, thanks to their timeless appeal and ability to accentuate curves.
Body Types: High-rise jeans are versatile and can flatter various body types, particularly those with shorter torsos or who prefer more coverage around the waist.
Clothing Pairings: High-rise jeans are excellent for tucking in tops or pairing with tucked-in blouses and shirts. They also provide a great base for creating polished and sophisticated outfits.
Comfort and Support: High-rise jeans can offer additional support and shape the midsection, providing a more secure and snug feeling for some wearers.

Finding Your Perfect Fit:
When deciding between low-rise and high-rise jeans, it's essential to consider your personal style, body type, and comfort preferences. Here are a few tips to help you find your perfect fit:
Experiment: Try on different styles and rises to see how they look and feel on your body. Remember that everyone's preferences and proportions are unique.
Consider Comfort: Pay attention to how the jeans fit around your waist, hips, and the overall comfort level when sitting, standing, and moving.
Body Proportions: Consider your body proportions, including torso length, waist definition, and hip shape, as these factors can influence how each rise looks on you.
Style Versatility: Think about the types of outfits and tops you typically wear and how they will pair with each rise. Choose the rise that complements your existing wardrobe and personal style.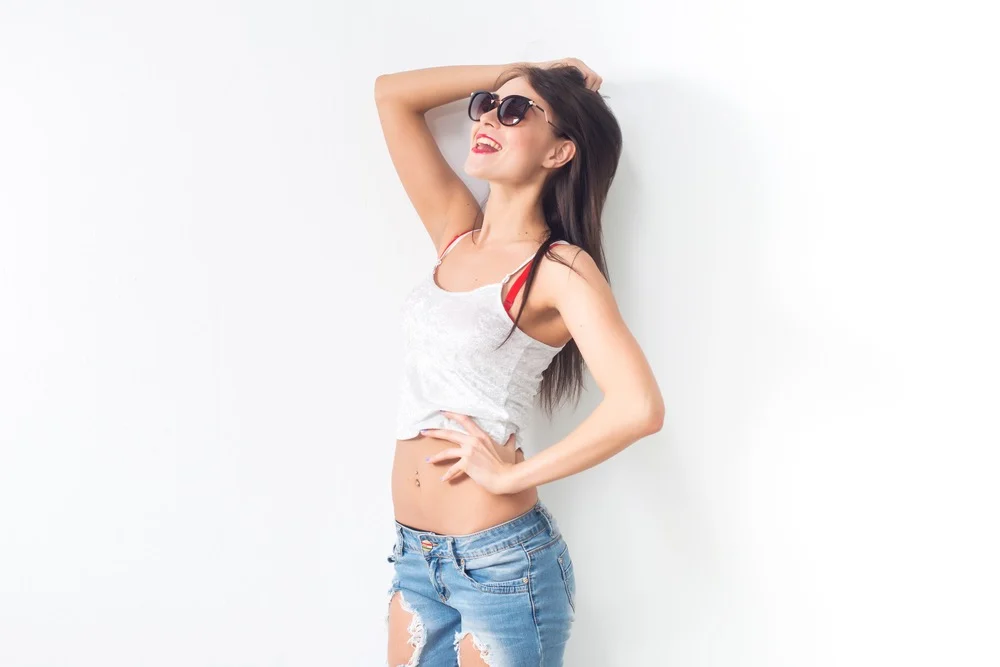 Conclusion: Choosing between low-rise and high-rise jeans ultimately comes down to personal preference, style, and body proportions. While low-rise jeans offer a trendy and relaxed vibe, high-rise jeans provide a classic and flattering silhouette. Experiment with both styles, considering comfort, proportions, and outfit versatility to find the rise that makes you feel confident and comfortable. Remember, the best jeans are the ones that fit you perfectly and make you look and feel amazing. Embrace your style and rock your favorite rise with confidence!