Find out the latest news about the Nvidia GeForce RTX 4000 series such the release dates, specifications, features, and benchmarks.
Note: this is a developing story.
Nvidia's next-gen GPUs have been released. We are talking about the Nvidia GeForce RTX 4090 and Nvidia GeForce RTX 4080.
To help visualize the potential of the RTX 4000 GPUs, we have considered NVIDIA's previous GPU lineup, the RTX 3000 series, and the performance improvements over the RTX 2000 series.
Although don't forget that AMD will soon be releasing the RDNA 3 series in November, so check that out too!
Let's see what RTX 4000 has to bring to the table!
Release Date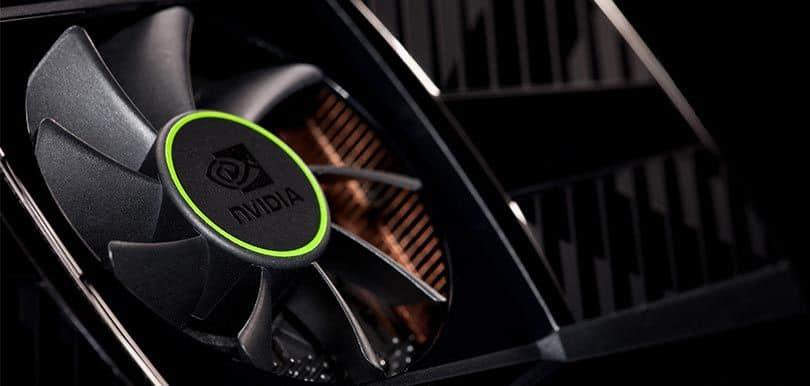 The RTX 4090 was released on October 12th with an MSRP of $1599, which is $100 more expensive than its predecessor, the RTX 3090.
The RTX 4080 was released in November 2022 with just one version. Originally, there was supposed to be a 12GB and 16GB RTX 4080.
Ori, because of community backlash, NVIDIA canceled the 12GB RTX 4080, and certain leaks from Gigabyte suggest that it will get the RTX 4070 Ti name and a January 7th, 2023 release date.
GIGABYTE RTX 4070 Ti

GV-N407TAORUS M-12GD
GV-N407TAORUS E-12GD
GV-N407TGAMING OC-12GD
GV-N407TGAMING-12GD
GV-N407TAERO OC-12GD
GV-N407TAERO-12GD
GV-N407TEAGLE OC-12GD
GV-N407TEAGLE-12GDhttps://t.co/7bU4W7Vz6v pic.twitter.com/HLcAa3ZiOe

— 포시포시 (@harukaze5719) November 28, 2022
By 2024, they believe they will have Ampere Next Next ready, which is supposedly the RTX 5000 series.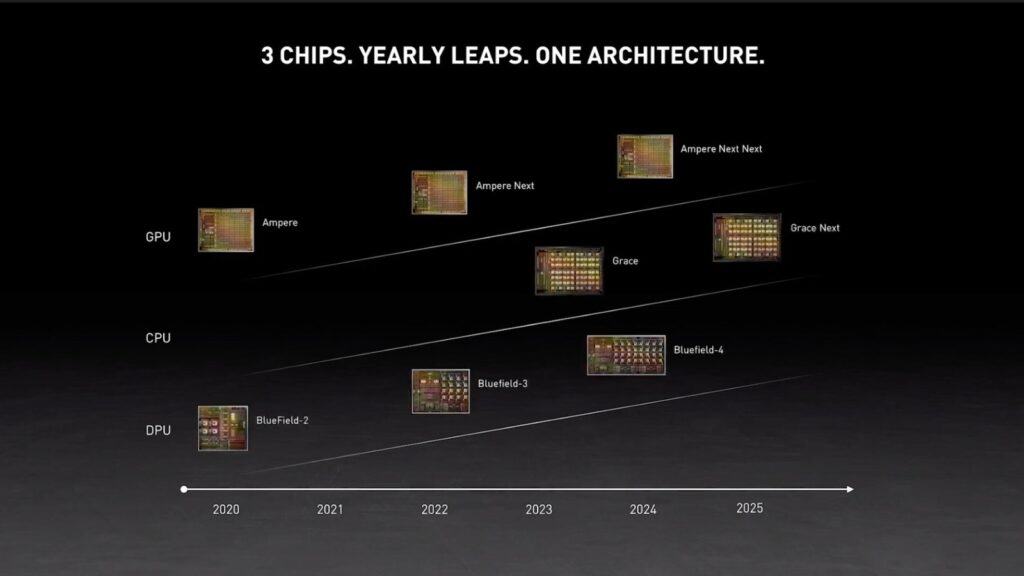 We should also mention that EVGA will no longer manufacture NVIDIA graphics cards. This decision is supposedly a consequence of NVIDIA's years of mistreatment.
EVGA's spokesperson mentioned that NVIDIA kept EVGA (and probably other partners) in the dark on the GPU's prices and constantly undercutting them, which reduced their profit margins while NVIDIA's profit margins shot up.
So, if you want an EVGA RTX 4000 card, there won't be any, unfortunately. Although, EVGA will continue manufacturing and warranty support for the 3000 series.
Price
We hoped that the interest drop in crypto mining and improvement in chip shortage would lead to better price points for future graphics cards.
Unfortunately, that does not seem to be the case. Instead, NVIDIA takes a completely different approach and puts substantially more expensive price tags on its GPUs.
Here are the price tags:
RTX 4060 Ti – $330 (not confirmed)
RTX 4070 – $500 (not confirmed)
RTX 4070 Ti– $899? (previously RTX 4080 12GB)
RTX 4080 16GB – $1199
RTX 4090 – $1599
It is likely that NVIDIA will lower the price of the RTX 4070 Ti, but that's not confirmed. Until then, we assume that it will release at $899, but if it does, that's a 50% price increase over the RTX 3070 Ti!
The RTX 4080 is 71% more expensive than the 12GB RTX 3080! Even worse, RTX 4080s go for well above $1200, and some go up to the RTX 4090 price point, which is probably why the sales for these GPUs are supposedly abysmal.
Although based on some rumors, NVIDIA might cut the price of the RTX 4080 to compete against AMD's 4080-like GPUs, the RX 7900 XT and RX 7900 XTX.
The RTX 4090 is $100 more expensive than the RTX 3090, but AIB's cost at least $100. Europe's pricing is worse, though. The lowest-priced RTX 4090 we spotted is around 1999 EUR and goes up to 2569 EUR, depending on the retailer.
Either way, let's see if that performance increase is really worth it!
Specifications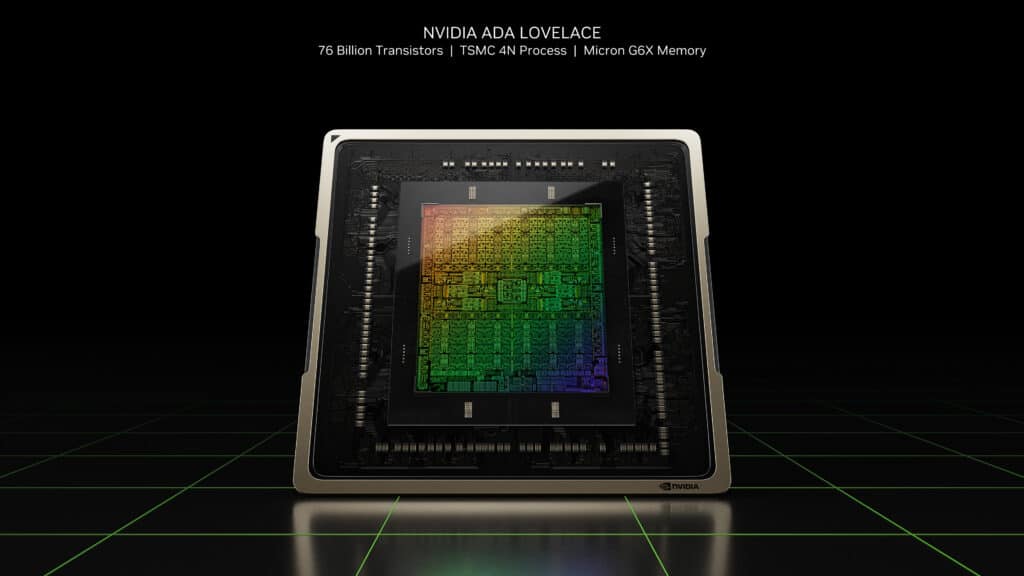 The Ada Lovelace microarchitecture is built on TSMC's 4N process, a solid leap from the 8nm Ampere (Samsung) chips.
A smaller process node will result in two significant benefits: more performance for less power.
Here are NVIDIA's claims of Ada Lovelace's improvements over older generations like Ampere and Turing: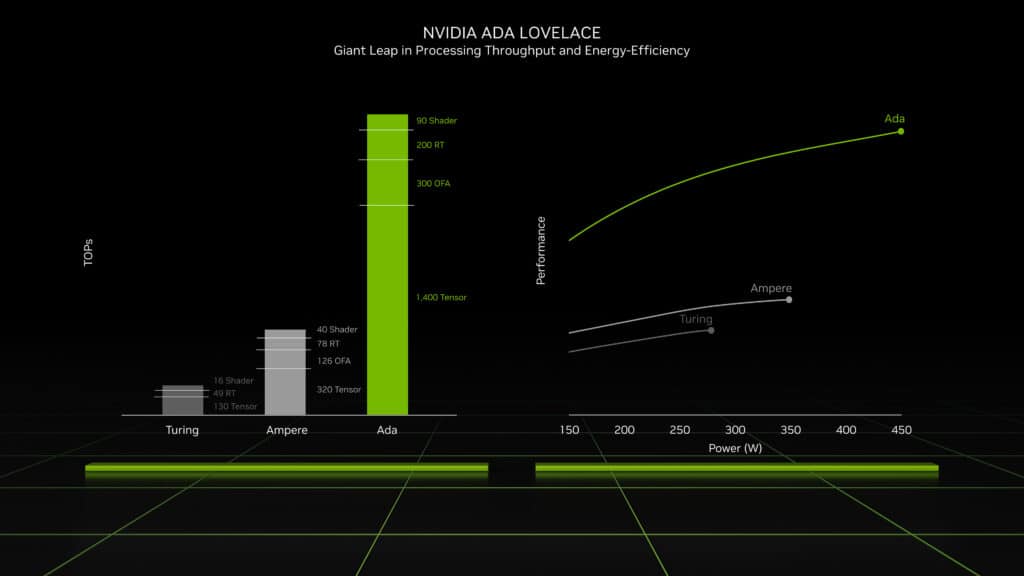 RTX 4000 Series (vs. RTX 3090) specification comparison table:
| Specifications | RTX 3090 | RTX 4090 Ti (The Beast) | RTX 4090 | RTX 4080 16GB | RTX 4070 Ti (Previously RTX 4080 12GB) | RTX 4070 | RTX 4060 Ti |
| --- | --- | --- | --- | --- | --- | --- | --- |
| GPU Die | GA102 | AD102 | AD102 | AD103 | AD103 | AD104 | AD104 |
| Process | Samsung 8nm | TSMC 5nm (4N) | TSMC 5nm (4N) | TSMC 5nm (4N) | TSMC 5nm (4N) | TSMC 5nm (4N) | TSMC 5nm (4N) |
| Base Clock Speed | 1395 MHz | ? | 2230 MHz | 2510 MHz | 2610 MHz | 2310 MHz | ? |
| Boost Clock Speed | 1695 MHz | ? | 2520 MHz | 2210 MHz | 2310 MHz | 2610 – 2800 MHz | ? |
| CUDA Cores | 10496 | 18176 | 16384 | 9728 | 7680 | 5888 | 4352 |
| Bus Width | 384-bit | 384-bit | 384-bit | 256-bit | 192-bit | 192-bit | 128-bit |
| Memory | 24GB GDDR6X | 48GB GDDR6X | 24GB GDDR6X | 16GB GDDR6X | 12GB GDDR6X | 12GB GDDR6X | 8GB GDDR6/X |
| Memory Speed | 24Gbps | 24Gbps | 21Gbps | 23Gbps | 21Gbps | 21Gbps | 18Gbps |
| Bandwidth | 936.2 GB/s | ? | 1008 GB/s | 736 GB/s | 504 GB/s | 504 GB/s | 288 GB/s |
| L2 Cache | 6MB | 96MB | 96MB | 64MB | 64MB | 48MB | 48MB |
| Total Board Power | 350W | 800W? | 450W | 320W | 285W | 250W | 220W |
| Release Date | September 1st, 2020 | TBA 2023 | October 12, 2022 | November, 2022 | January 7th, 2023 | Q1 2023 | Q1 2023 |
Note: Data on RTX 4070 and RTX 4060 is based on leaks due to missing official information.
For more information, here's NVIDIA's comparison of the three new upcoming GPUs with the previous generation lineup.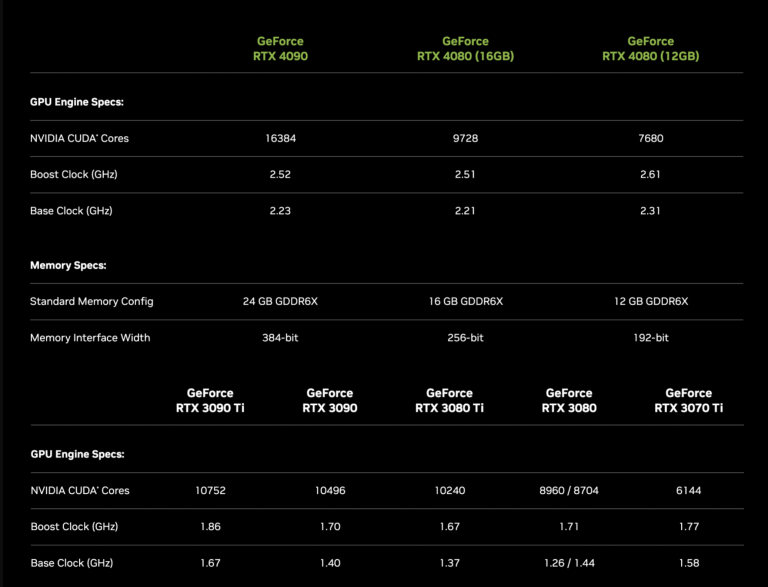 RTX 4090 Ti/The Beast
The leaks on NVIDIA's "true" flagship are a bit vague. This AD102 chip that's been referred to as the "The Beast" might be the 4090 Ti, Titan, or maybe even get a completely different naming scheme.
Supposedly, this flagship SKU will have 12,432 CUDA cores and 48GB of GDDR6X running at 24 Gbps. Bandwidth will be well over one terabyte, considering that the regular 4090 will have a terabyte of bandwidth.
RTX 4090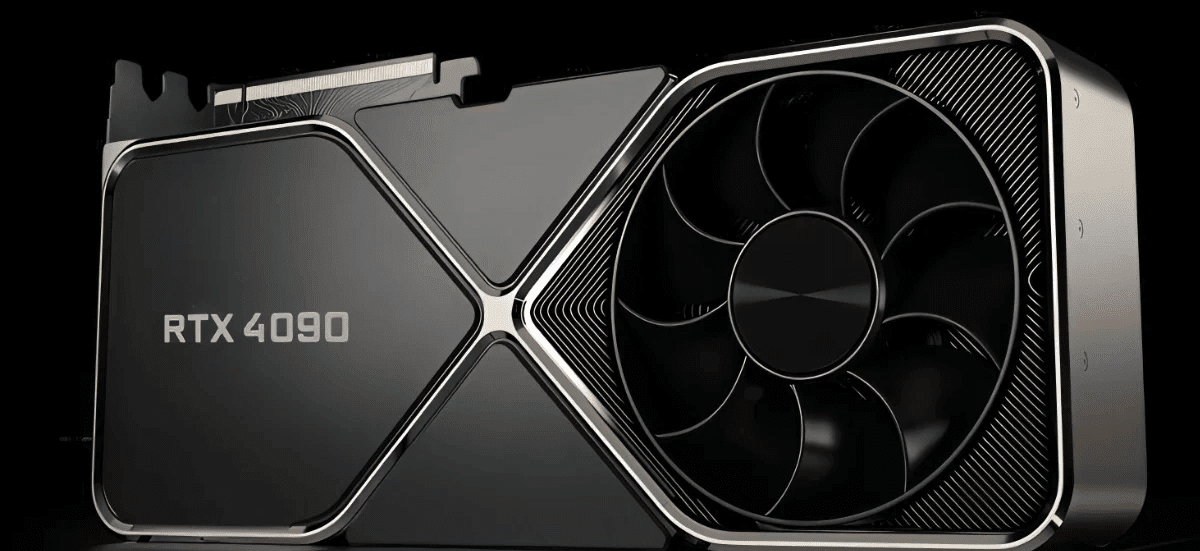 The GeForce RTX 4090 has 16384 CUDA cores, compared to 10496 on the GeForce RTX 3090. So about a 50% increase in CUDA, but it also boosts up to 2520 MHz, which, again, is quite higher than the 3090.
That's not the only thing that NVIDIA has increased, though. It is rated at 450W TDP, 100W more than its predecessor.
Because of that high TDP, NVIDIA introduced a new 600W connector called 12VHPWR. However, dozens of RTX 4090 users on Reddit reported that the connector melted while gaming/working.
After a couple of weeks of these accidents, NVIDIA finally gave a response.
NVIDIA says they are aware of about 50 cases globally, which is a pretty low failure rate considering the 125,000 total sales of the RTX 4090.
Based on NVIDIA's investigation, the cause was user-related. Specifically when users failed to fully plug in the 12VHPWR connector in the GPU.
However, they will provide RMA for any NVIDIA GPU that suffered from this issue, regardless of the card brand and cable used.
So, if you do get an RTX 4090 card, ensure the connector is completely inserted into the GPU!
RTX 4080
As we mentioned previously, the RTX 4080 had two versions, but the smaller 12GB version is now officially "unlaunched."
NVIDIA got a lot of backlash on it, so they pulled it back from release. There are rumors now that it is coming back as a RTX 4070 Ti.
It got such bad publicity because it's a cut-down 16GB RTX 4080, with 21% fewer CUDA cores (from 9728 to 7680),192-bit memory interface width (rather than 256-bit) at 285W rather than 320W.
Many refer to this inferior RTX 4080 as "the real RTX 4070." And with a price of $899 or $1199 for the better RTX 4080, this will be a difficult purchase for most people.
We hope that with the new 4070 Ti name, the price will also change, especially after AMD announced the RX 7900 XTX and RX 7900 XT, which cost $999 and $899, respectively.
RTX 4070/Ti
The RTX 4070 is where everyone's focus should be, especially now with the newer specifications leaks from kopite7kimi.
There is an update of RTX 4070.
PG141-SKU331
7680FP32
12G 21Gbps GDDR6X
300W
TSE >11000

— kopite7kimi (@kopite7kimi) August 4, 2022
If the 4070 gets 12GB of GDDR6X VRAM @ 21Gbps instead of 10GB GDDR6 @ 19 Gbps (like previous leaks suggested), it could be as fast as the RTX 3090 Ti.
This performance estimate is supported by the leaks claiming that the 4070 will have a max boost of 2800 MHz and a boost clock of 2610 MHz.
The memory bus has also changed from 160-bit to 192-bit.
RTX 4060 Ti
According to kopite7kimi, the RTX 4060 Ti will be the AD106 GPU with 4352 CUDA cores. Originally though, we thought that the RTX 4060/Ti would be using the AD104 GPU. However, the AD106 chip could be substantially cheaper to use.
RTX 4060 Ti has a very short reference board. The PG190 still uses CEM5 connector.
AD106-350-A1
4352FP32
8G 18Gbps GDDR6
32M L2
220W

— kopite7kimi (@kopite7kimi) December 13, 2022
Unfortunately, the RTX 4060 Ti won't get a VRAM upgrade and will stick with 8GB of GDDR6, just like NVIDIA's last generation RTX 3060 Ti.
NVIDIA also increased TDP to 220W compared to 200W on the 3060 Ti.
Performance
RTX 4090
The performance gains we see with the RTX 4090 might actually excuse the pretty high price tag.
This might even be one of the biggest generational performance leaps in GPUs. Let's look at some third-party benchmarks.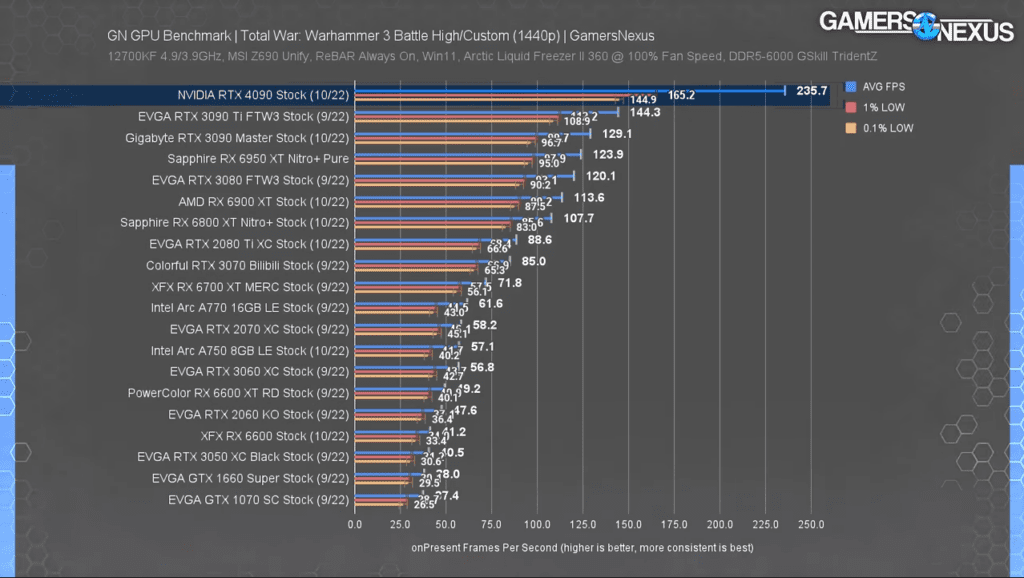 First up is Gamers Nexus' Total War: Warhammer 3 1440p benchmark. Immediately, it is obvious that the RTX 4090 is undoubtedly the fastest gaming GPU in the world right now.
In this game, the new NVIDIA flagship is almost 40% faster than the RTX 3090 Ti. Keep in mind this is without any ray tracing or DLSS options enabled. It's also 45% faster than the RTX 3090.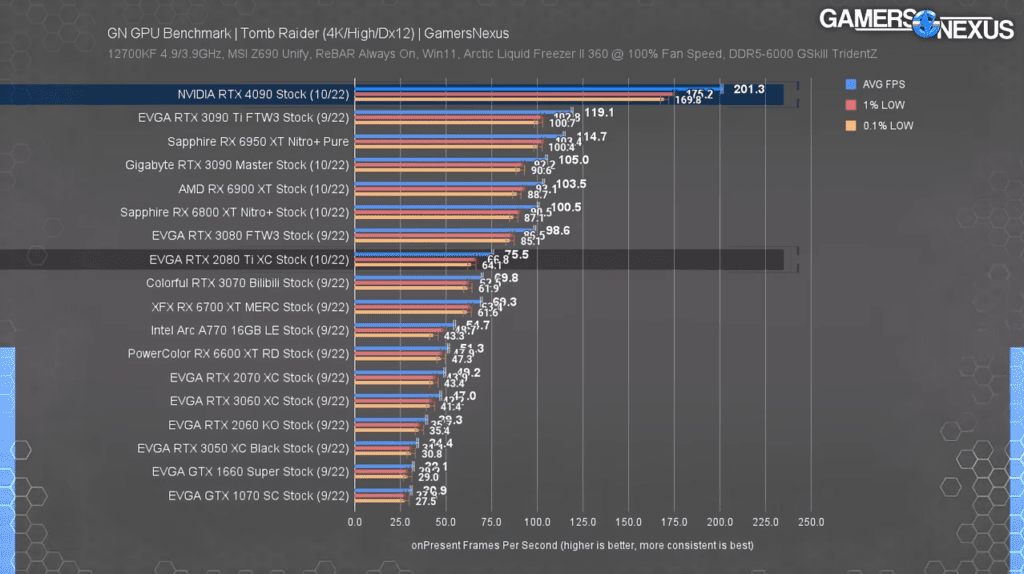 In Tomb Raider at 4K, the performance is consistent with the previous benchmark, surpassing the RTX 3090 Ti by around 40%.
To further establish the performance dominance of the RTX 4090, here are two charts by Hardware Unboxed showing a 13-game average in 1440p and 4K.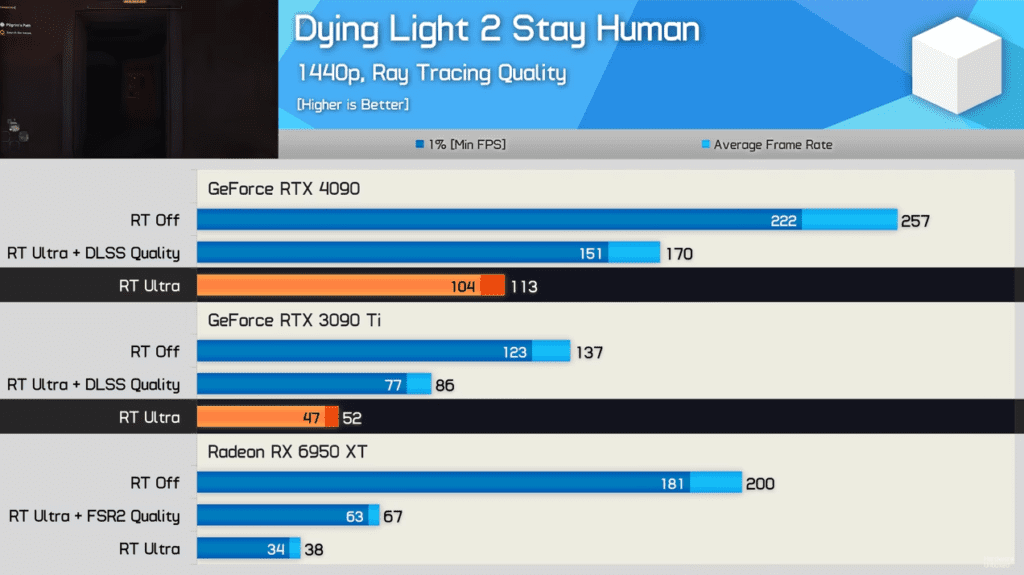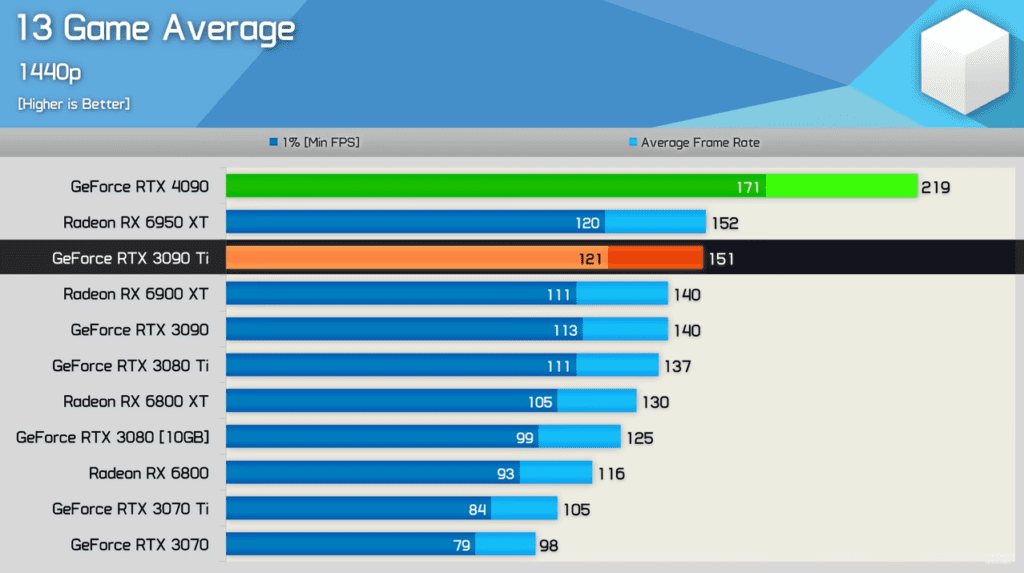 In 1440p, the RTX 4090 is ~45% better than the RTX 3090 Ti and RX 6950XT. At 4K though, without any CPU bottleneck, the RTX 4090 is almost 60% faster than the RTX 3090 Ti.
When ray tracing is enabled in games though, the RTX 4090 story gets even better.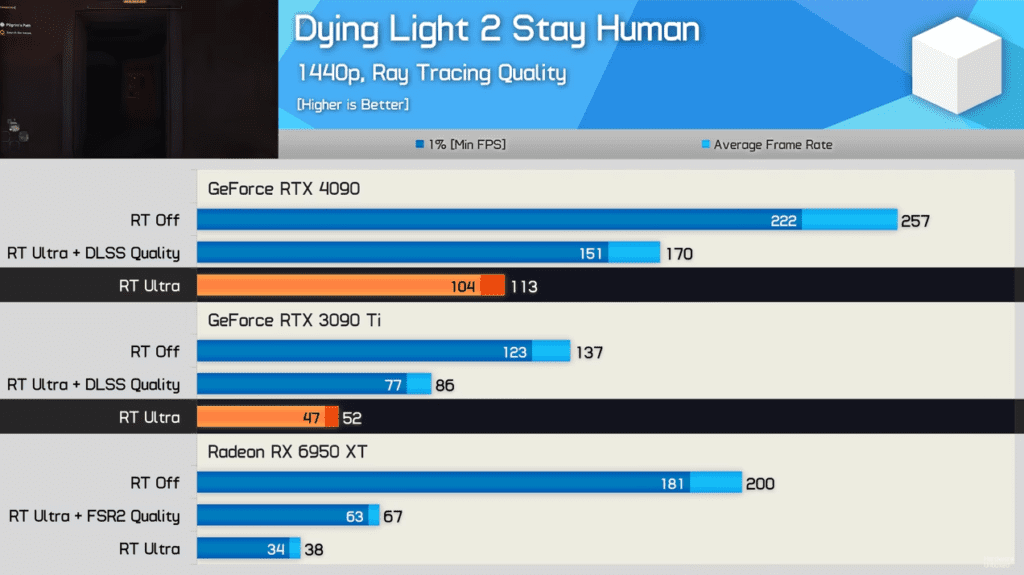 Hardware Unboxed tested the RTX 3090 Ti, RX 6950 XT and RTX 4090 in Dying Light 2 Stay Human with ray tracing enabled. Without any DLSS upscaling, the RTX 4090 is 117% faster than the RTX 3090 Ti.
With DLSS enabled, the 4090 is around 95% faster than the previous NVIDIA flagship. So, NVIDIA definitely improved the ray tracing capabilities in this new generation of RTX GPUs.
DLSS 3 takes things even further for the new flagship, making it almost 150% faster than the RTX 3090 Ti, but more on this new feature later.
The RTX 4090 also performs pretty well in productivity tasks, cutting down the time needed to export 3D renders and video edits by half.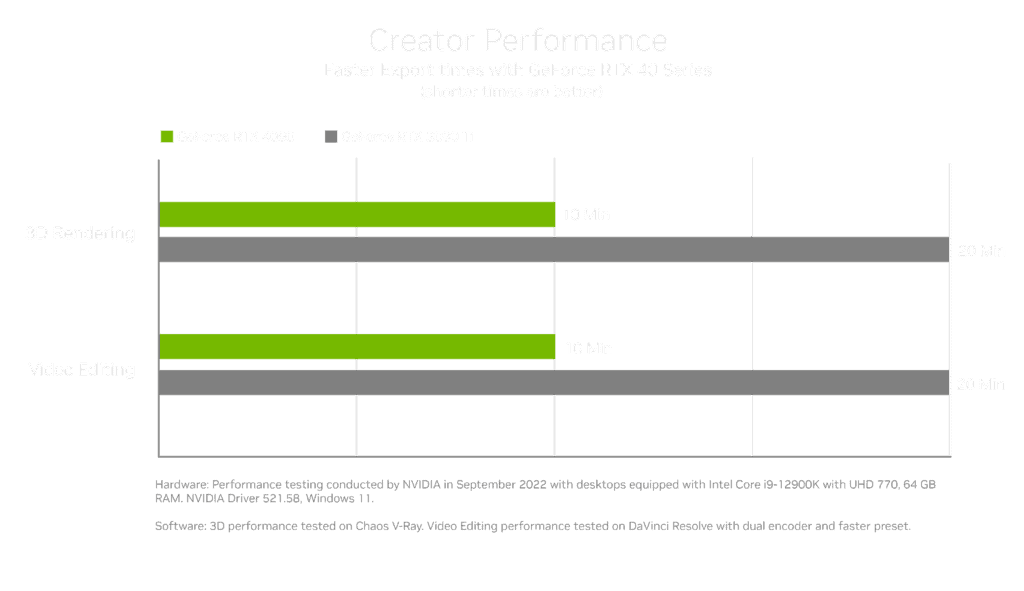 RTX 4080
There is no doubt that the RTX 4080 is a great graphics card, and these three benchmarks/charts below from Hardware Unboxed prove that.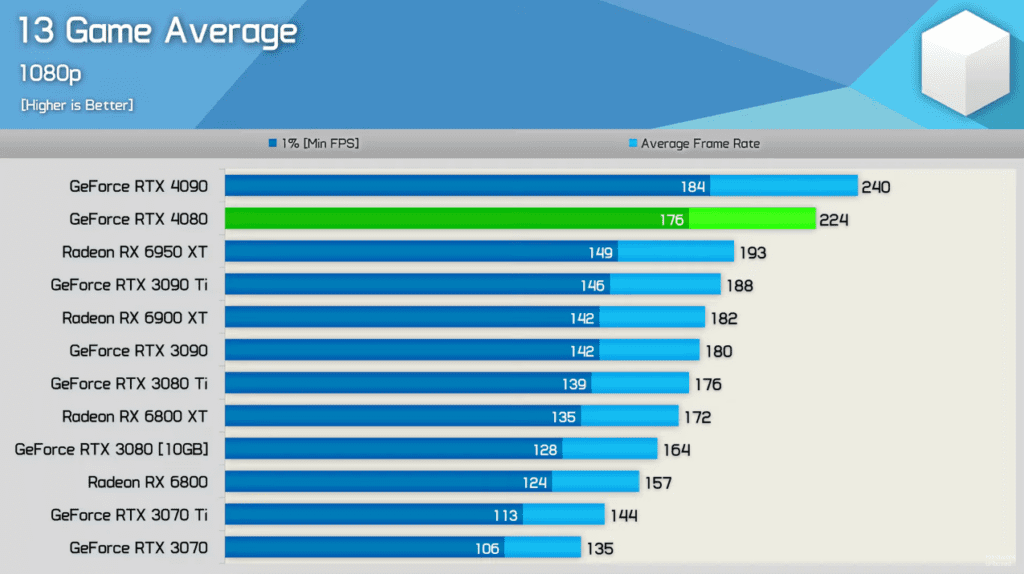 For this 1080p data, keep in mind that the RTX 4080 is often CPU limited, so it can't give 100% at this resolution.
Either way, even at 1080p the RTX 4080 is dominating the charts, ending up about 16% faster than the RX 6950 XT and 19% faster than the RTX 3090 Ti.
It's also 36% faster than its predecessor, the RTX 3080.
When resolution is increase to 1440p, the performance gap widens.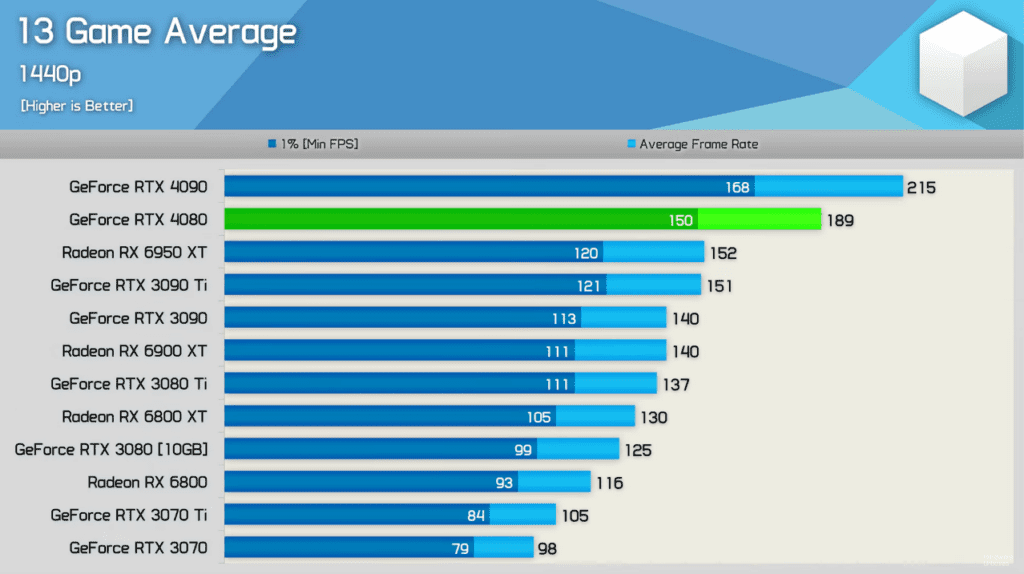 The RTX 4080 is almost 25% faster than the RX 6950 XT and RTX 3090 Ti. It's also more than 50% faster than the RTX 3080.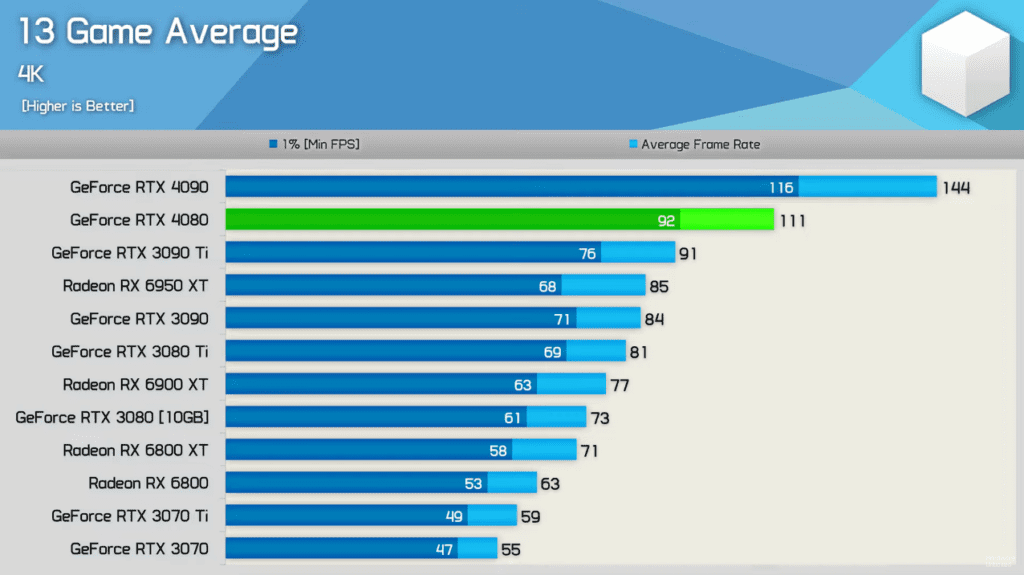 At 4K, the performance gap is similar to 1440p, with the RTX 4080 outperforming the RTX 3080 by 52% and the RTX 3090 Ti by 21%.
These are great generation-over-generation performance gains, but here comes the "but".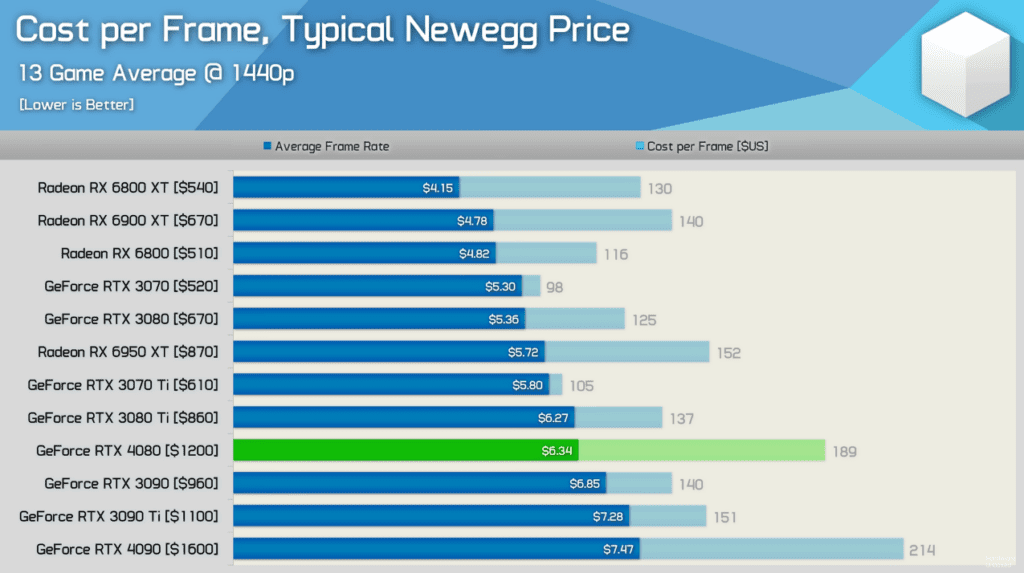 The cost per frame at 1440p is one of the worst currently, based on real pricing on Newegg. Still better than the RTX 4090 though.
RTX 4070/Ti
If the RTX 4070 Ti is truly the unlaunched RTX 4080 12GB, here's what we can expect in performance.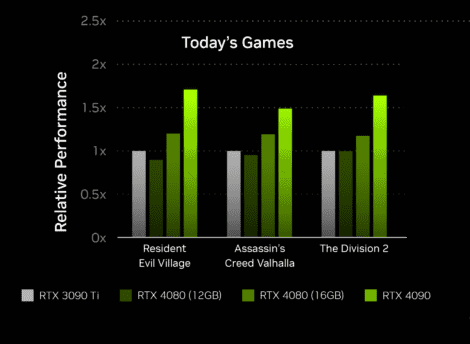 Based on this chart from NVIDIA, from these three games alone, we can see that the 12GB "RTX 4080" has trouble keeping up with the RTX 3090 Ti on multiple occasions, especially with older games or even new games that do not support DLSS.
To put this into perspective, the $500 RTX 3070 performed just as fast or sometimes faster than the $1000 RTX 2080 Ti flagship GPU.
So, we hope the 4070 Ti will be priced lower than $899 to offer much better price per performance.
DLSS 3.0
DLSS 3.0 is the successor to DLSS 2.0, but not exactly. DLSS 3.0 uses DLSS 2.0 as we know it and then applies NVIDIA's new Frame Generation technology to boost FPS even further.
Here's how it works: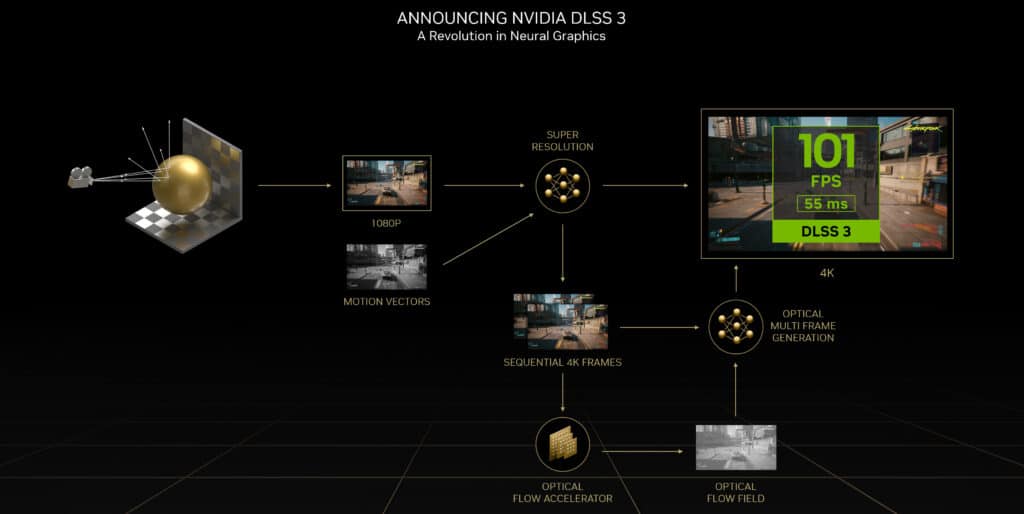 With the so-called "Optical Flow Accelerator," a new part of the RTX GPUs, and by adding Optical Multi Frame Generation, NVIDIA brings serious FPS boosts to the table.
Simply put, RTX 4000 GPUs can generate new frames based on "guesses," artificially increasing the FPS, and improving the player's experience.
Do note that DLSS 3 will not be available for RTX 3000 and 2000 cards because they lack this Optical Flow Accelerator.
Here's DLSS 3 or Frame Generation in action: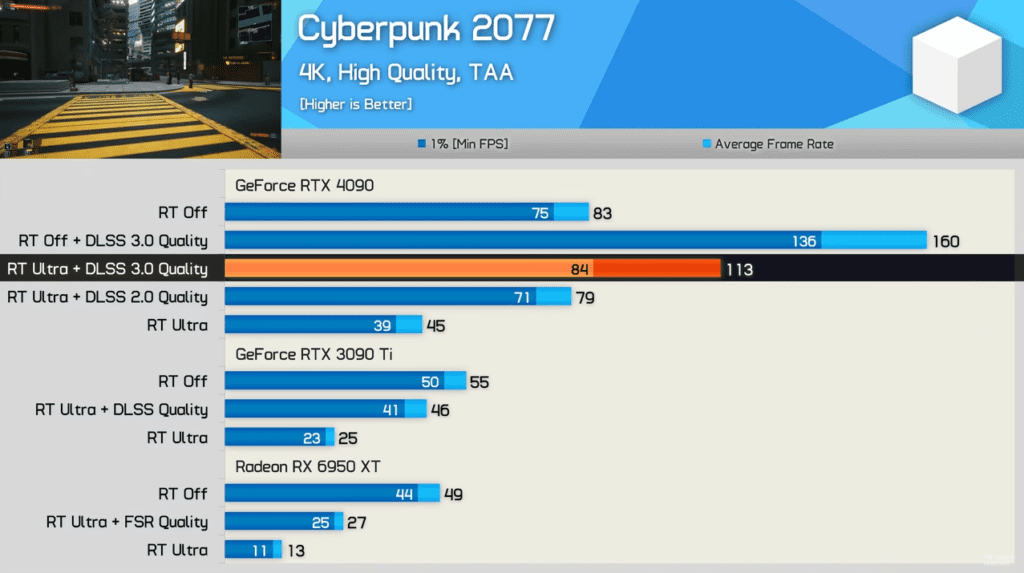 From this Hardware Unboxed chart, the RTX 4090 is 145% faster than the RTX 3090 Ti. These are some absolutely incredible gains in performance.
But is there a catch?
Well, yes. There is one (or two) related to latency and in-game feel.
Here's an example. In Cyberpunk 2077, with DLSS 3 enabled, the game shoots up to 112 FPS. That framerate should lead to a substantially smoother experience than 62 FPS.
However, since those extra FPS are generated with DLSS 3, the responsiveness/latency feel is like you are playing the game at 62 FPS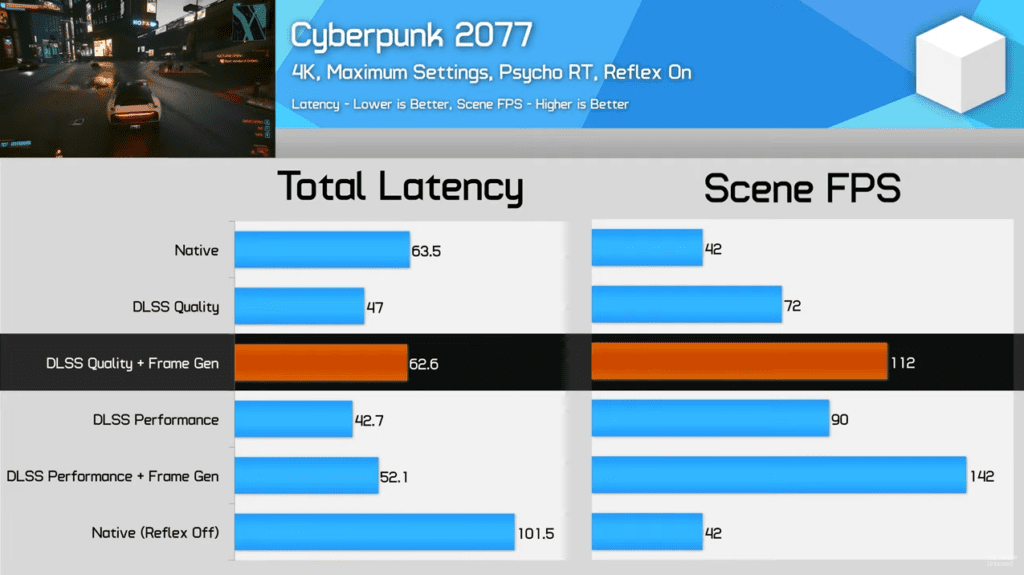 This isn't a huge problem, but it might be noticeable for some people. Tim from Hardware Unboxed explained this as "smooth motion, but a slow feel."
Furthermore, there are UI-related issues/artifacts, which isn't a dealbreaker and it might get fixed with a future update.
If you are interested for a more in-depth analysis, check out the video:
Scalping & Price Increases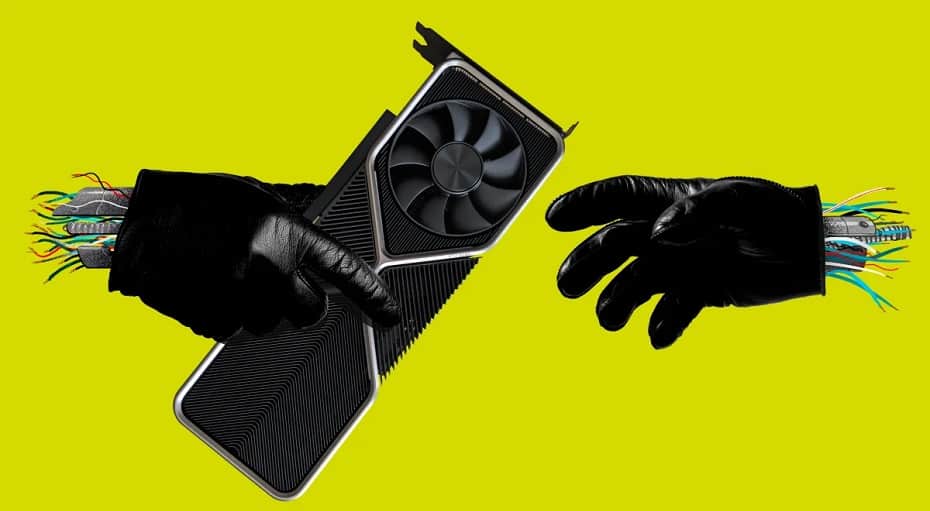 Throughout the last couple of years, ever since the release of the RTX 3000 series, scalping has become a huge trend.
This new trend skyrocketed the prices of new GPUs while considerably cutting down the supply. This shortage continues in 2022 as it did in 2021 and 2020.
Even the world's largest semiconductor manufacturers, TSMC and Samsung, struggle to keep up with the demand.
Right now, you might be wondering: will this kind of scalping affect the RTX 4000 series? Unfortunately, we cannot know for sure, but at least we know that both TSMC and Samsung are investing in improving their manufacturing capacities.
We'll know the status of RTX 4000 availability once the GPUs are released.
Until then, you can check back for future developments on the RTX 4000 Series!
Source: GPUMAG