Building a solid network contributes to business success, but it isn't the size that matters. Research shows the real power of networking comes from the quality and variety of those relationships. Upwork provides an opportunity for you to meet professionals from around the world who specialize in other fields and get to know a diverse group of people who can help you expand your abilities and your perspective.
These relationships can help you find freelance success. Over the past few months, we've added new ways for you to expand your network and take greater control over your business. These Upwork updates are designed to help you access more of the tools that can help. Here's a look at the highlights.
Experience a network you can lean on for support, ideas, and advice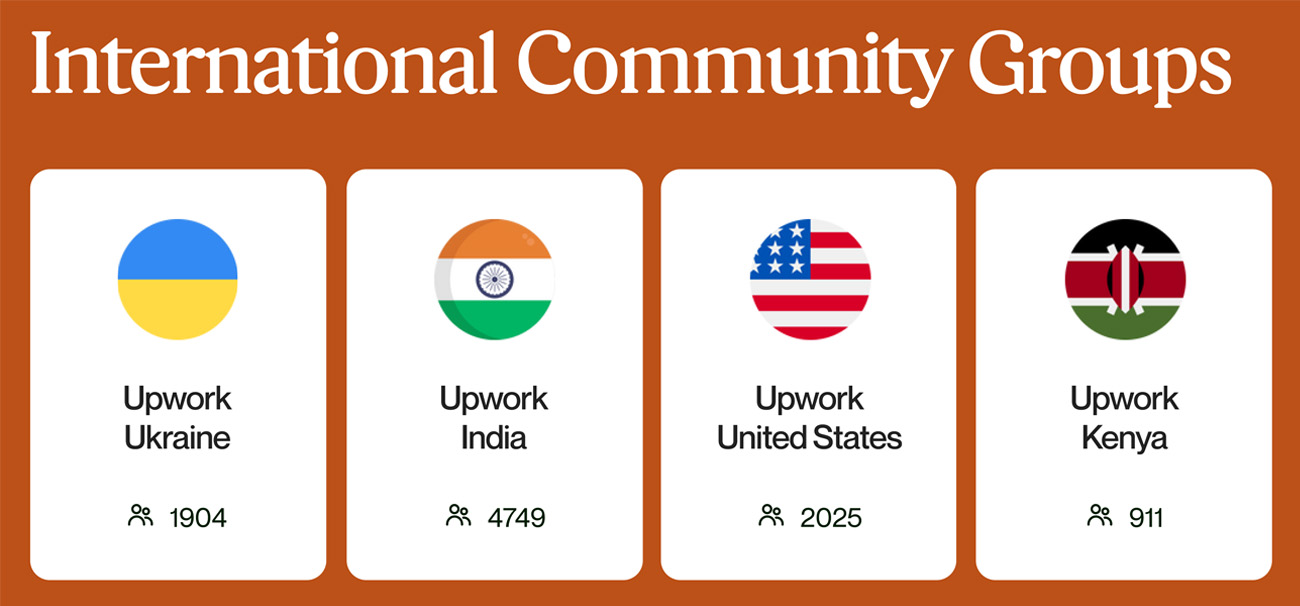 Watching so many members of our community displaced and disrupted by the war in Ukraine has been a lesson in resilience, like Bohdan Huriev, a software design expert from Kharkiv who recently shared his story with Upwork.
Upwork is filled with incredibly talented people, from highly skilled moms driven to get back into the workforce to recent graduates who wake up every day excited to create a career on their own terms. Our community is filled with ability, vision, and confidence—we want to make it easier for you to tap into that inspiration.
Community Groups expand to location-based networks
At the beginning of the year, we launched Community Groups, a place for independent professionals and clients to come together around shared interests and experiences. The number of groups is expanding rapidly. I invite you to regularly check the directory for new topics and themes you feel connected to.
This quarter, we've added numerous location-based groups—including six groups for countries that have welcomed thousands of Upwork community members displaced by the ongoing war in Ukraine:
There are also popular groups for other regions such as Pakistan, India, and the Philippines. Country groups are generally restricted to people who live in that region to keep the conversations as meaningful as possible, with local insights from others who are on a similar journey.
New event hosting platform
We're in transition as we build the world's work community and evolve our events into a more comprehensive resource for independent professionals, agencies, and clients alike.
As we continue to build out our experiences and interactive workshops, we have recently:
Launched Community Hours, a new informal live event series to help you interact with your peers while learning from experts and guest speakers. The first event reached max capacity and, in a post-event survey, more than half (55%) of respondents said it helped them get "a sense of community and support"
Restarted localized events, product announcements, focus groups, meetups, and Q&As with guest speakers—like this Expert Talk: Identifying & Avoiding Scam on Upwork
Implemented a new event hosting platform that will enable more dynamic events and make it easier to find relevant upcoming and live events as well as previous recordings
Share your ideas and help us shape what the Upwork Community looks like!
Community safety is a top priority
Scam job postings don't just hurt the independent professionals they draw in, they impact trust across the Upwork community. It's a challenge that has increased across the internet and marketplaces, including Upwork—and so have our efforts to fight it.
Identifying fraud and removing it from our platform is a significant responsibility and we're constantly exploring different ways to be even more effective. Our trust, safety, and security team is more than 300 people strong and we've recently bolstered our investments in automated detections, best-in-class vendor partnerships, and expanded human review.
Since the beginning of 2022, we have:
Doubled the team of security agents who address scams, and increased efficiency and accuracy with investments in tooling and process enhancements.
Committed more engineering resources to enhance detection, identify scams faster and with greater accuracy, and reduce Upwork customers' exposure.
Continued to investigate potentially non-compliant jobs through our internal controls and incoming reports from members of our community.
Expanded in-product and community education to improve customer awareness.
The scope of this work is significant and we can't do it without your help. The most important thing you can do is to keep pre-contract communications (with the exception of Enterprise clients) and all contract payments within Upwork. You can also help by flagging suspicious job posts or other activities for our review within the Upwork platform.
Get more opportunities with expert guidance and smart tools
Working with more clients means getting in front of more clients—and making a great impression. Upwork's new features can help you take greater control over the types of opportunities that come your way. We've also launched a whole new platform to deliver how-to information and help you achieve the results you're striving for.
Upwork Academy provides the information you need to create success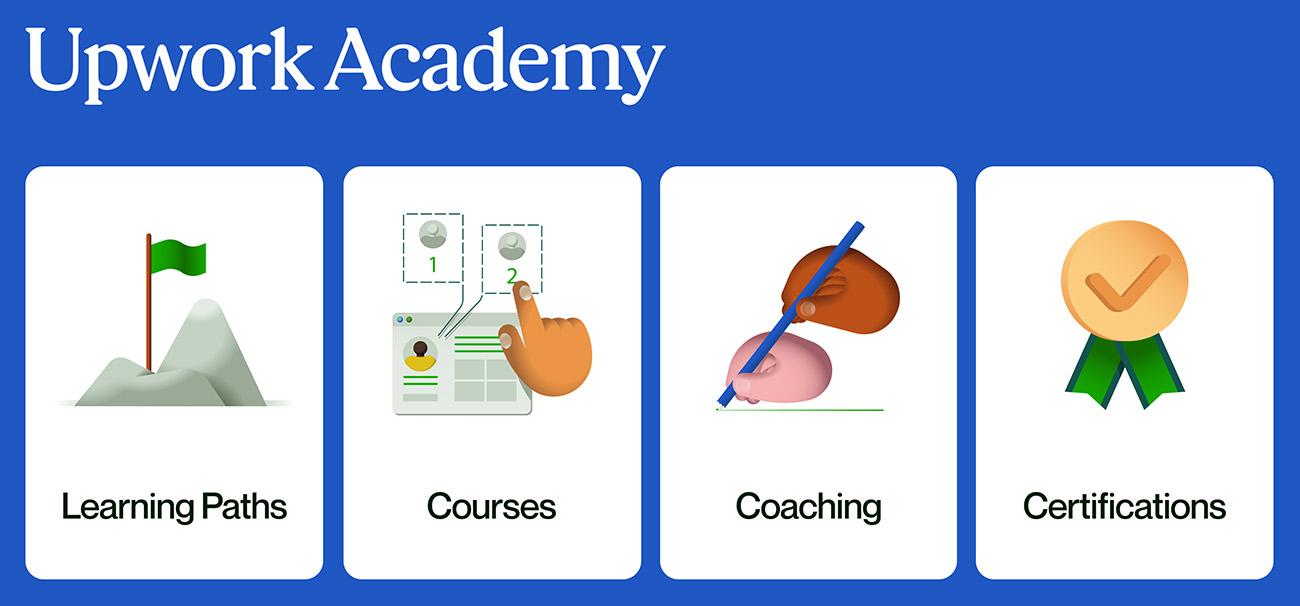 Upwork Academy is an interactive learning hub within Upwork Community that's designed to empower you to reach your goals on Upwork.
To start, we've launched with 12 initial on-demand courses to help independent professionals like you get a strong start on Upwork—such as how to use built-in tools, develop a strong profile, and start working with clients. As we move forward, we'll continue to add videos and learning paths to help you grow.
Upwork Academy has four components:
"We're creating a space where talent can access all the tools they need to be successful. Right now, we're learning what works—how to scale, how to provide the most value," said M'Chelle Ryan, Director of Upwork Academy. "There's going to be a lot more coming as we expand the Academy, ultimately we want everyone to come in and get what they need."
Check out Upwork Academy and keep an eye out for future updates—there's a lot more to come!
Add more skills categories to your profile for better job recommendations
A diverse professional background is hard to capture with one skill category, so we've added the ability for you to select up to ten categories that best reflect your range of skills and experience. Selecting the most relevant categories will help Upwork:
Diversify job matches suggested for new Upwork users
Increase your visibility in search for potential job matches
Improve project matches based on the multiple categories you've identified
Learn how to add additional skills categories to your profile.
Two features to help you attract and win more opportunities
Boosted Proposals is a feature that enables you to use Connects to push your submitted proposal to the top of the list. On its initial launch, the Upwork Community provided a lot of valuable feedback that we took into consideration as we simultaneously measured the impact this feature had on a professional's ability to land new projects.
The results of our test:
Proposals that were successfully bid into one of three slots for boosted proposals had a 37% higher chance of being successful
The professional with the highest bid for the top spot had a 43% greater chance of being hired
It's up to the client to select the right talent for their project, but it's clear that boosting a proposal can help you stand out, signal your keen interest, and ultimately create more chances to grow your business. This feature is now widely available to independent professionals and agencies.
The "Available Now" badge is another way to get a potential client's attention. By using Connects to turn the badge on when you have room for new projects, you make it easy for clients to see in real-time that you're able to get started right away.
Source: Upwork