The Asus ROG Flow X13 is reinventing the dream of having a thin-and-light laptop that connects to an external graphics card for dramatically better gaming performance.
The first half of the Asus ROG Flow X13 is an ultra-slim and convertible 13-inch laptop equipped with an 8-core AMD Ryzen 9 5980HS processor and Nvidia GTX 1650 graphics. The other half is the Asus ROG XG Mobile, a power bank-sized external GPU that houses the latest mobile version of Nvidia's GeForce RTX 3080 GPU.
Asus ROG Flow X13
The laptop by itself measures 15.8mm thick and weighs 2.9 pounds, meanwhile, the eGPU dock measures 155 x 208 x 29mm and weighs only about 2.2 pounds. Asus claims its compact eGPU is only 6% of the size of a traditional external GPU box that utilizes desktop graphics cards.
As for power, the laptop's built-in GPU has enough graphical oomph to get you through most of your tasks with 1,255MHz of power. But for gaming, you'll really want to utilize the Nvidia RTX 3080 at its full 1,810MHz power and all its 2nd generation RT Cores.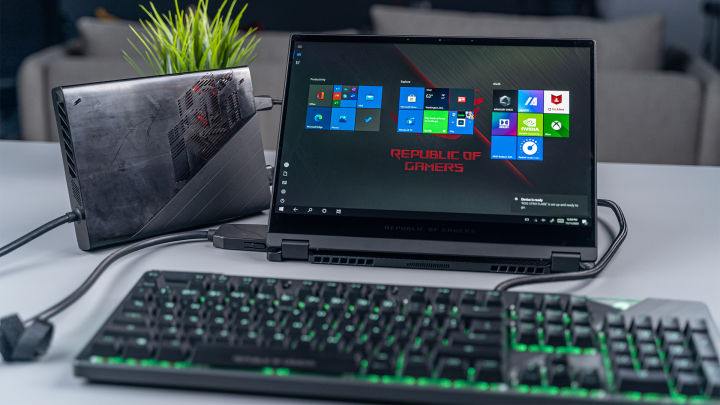 Additionally, Asus has developed a 
gaming laptop
 that's not only ultraportable but is also versatile for multiple uses beyond gaming.
The Asus ROG Flow X13 is a convertible laptop with a 360-degree hinge that allows users to flip the screen over and use the machine as a Windows tablet. In this mode, users can draw, play touch-based games, and watch streaming media. The screen looks fantastic on paper too with an Ultra HD 4K resolution, 16:10 aspect ratio, and a 120Hz refresh rate.
As for its other specs, the Asus ROG Flow X13 features DDR4X 4,266MHz memory and SSD capacity up to 1TB. You can also expect 10 hours of video playback from this notebook's battery.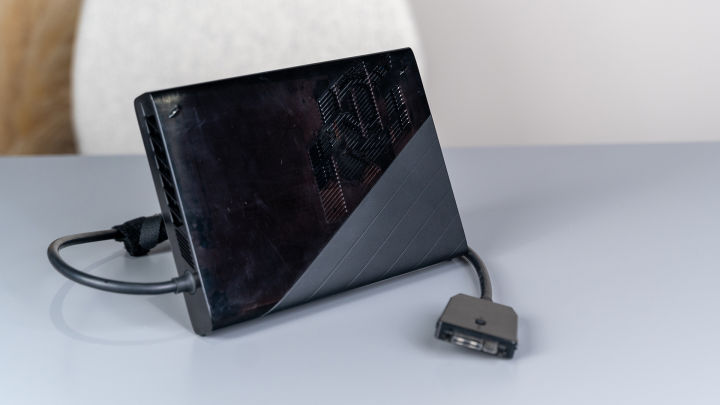 And when you want to get to gaming you simply connect the ROG XG Mobile to the laptop with a propriety cable. Rather than using Thunderbolt 3 or 4, Asus opted to develop a custom PCIe 3.0 x 8 interface that it claims is faster.
Users can connect this eGPU box to a gaming monitor using its DisplayPort 1.4 and HDMI 2.0a ports. This compact external GPU also acts as a 280W AC adapter for the laptop and I/O hub thanks to its attached USB 3.2 Gen 2 connector.
The Asus ROG Flow X13 should be up for preorder now on Asus' website, but as of this writing, the company has yet to disclose pricing or availability.