The best inexpensive plant-based options
When you think of a healthy diet, what's the first word that comes to mind?
Is it salad? Maybe vegetables? Or even fruit?
If so, you're headed in the right direction. But those foods are only part of the equation. A healthy and sustainable diet is so much more than just fruits and vegetables — nuts, seeds, and whole grains should all be included, along with many others.
I've been eating a plant-based diet for almost four years, and people want to know the secret to success. The problem is, there is this idea that in order to eat healthy, you have to make boring, repetitive meals.
The truth is, it doesn't have to be one or the other.
You don't have to sacrifice flavor in order to eat healthy. And you don't have to spend an outrageous amount of money on green juices or smoothies either.
You simply have to make eating healthy food fun, exciting, and delicious. That way, you will be more likely to stick with it long term, and you won't feel deprived.
One of the best ways to accomplish this is by getting in the kitchen and making some recipes yourself.
If you're just getting into cooking, it might seem a bit overwhelming at first. Luckily, I've got a whole day's worth of food ideas for you that are completely vegan, including meals, snacks, and even dessert. Let's dive right in.
---
Breakfast
When it comes to breakfast, a big mug of cold brew coffee with a splash of almond milk is the only way I start my day. If you aren't a coffee fan, you could try warm lemon water or an energizing tea.
Then, I love to make a bowl of oatmeal. It's healthy, filling, and packs in protein, fiber, magnesium, and much more.
A great way to add flavor to your oatmeal is by topping it with peanut butter, fresh or frozen fruit, and cinnamon. Try out blueberries for those antioxidants.
A quick tip here is to use less water for a thicker bowl of oats, or more water for a bit thinner oatmeal.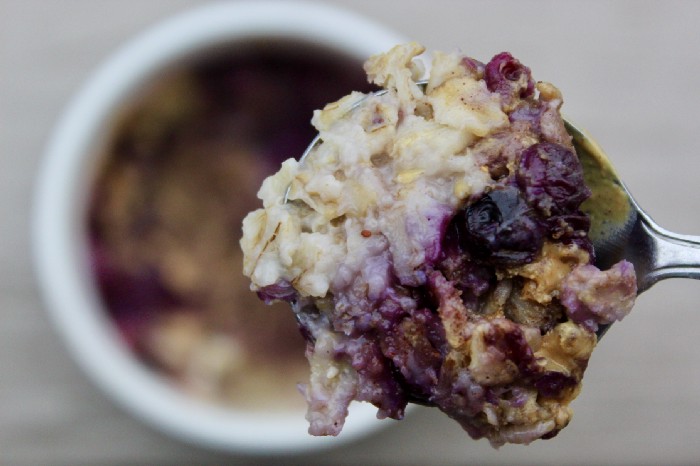 Snack Idea #1
A simple pairing of peanut butter and banana is the perfect snack to power you through your morning.
I like to get a workout in early, so a sliced banana topped with cinnamon and peanut butter is the perfect post-workout snack.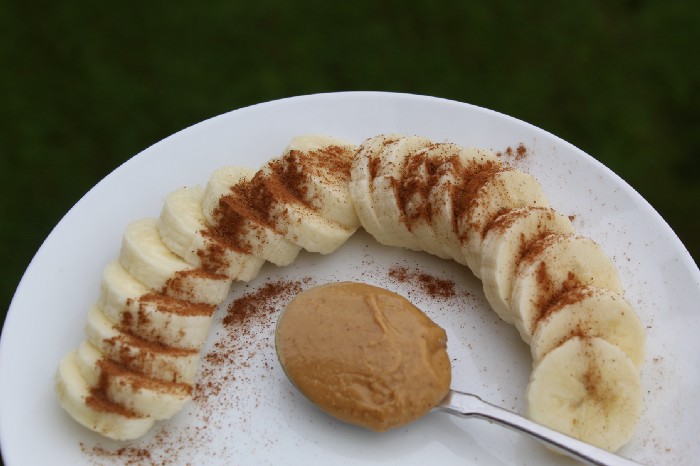 If you don't like bananas, you can always substitute apple slices or even mango. Ok, the mango might not be for everyone. However, I personally think the combination of peanut butter and mango is absolutely delicious, so try it out before writing it off.
---
Lunch
A huge Mexican style salad is one of the best ways to sneak in some leafy greens. If you aren't a huge salad person, don't worry, I'm not either. This is still the perfect dish for you. It packs in so much more flavor than a traditional salad.
All you need to do is combine lettuce, beans, rice, salsa, veggies, avocado, and nutritional yeast for a nutrient packed meal. You can throw it all in a baked tostada like I did in the below picture for extra flavor and crunch.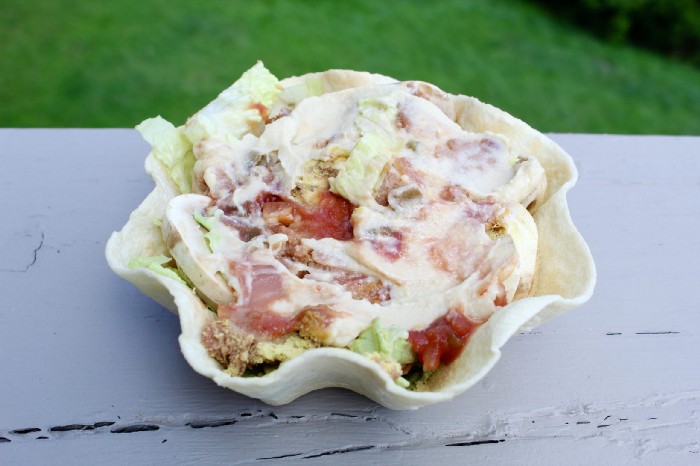 This is a super customizable lunch option that comes together in 10 minutes or less. I think we all can agree that quick lunches are a necessity for busy work days, so you will absolutely love this one.

The meal has a perfect balance of protein, carbs, and healthy fats. This is one of my go-to meals throughout the week, and I have a feeling it might become one of yours as well.
---
Snack Idea #2
For a second snack option, I've got a delicious and healthy treat. It's called healthy edible vegan cookie dough.
That's right, you can eat this snack straight from the spoon. Since there are no eggs, I didn't have to bake the dough.
I used almond flour to make my cookie dough. Remember that regular flour isn't supposed to be consumed raw, so if you want to make vegan edible cookie dough with it, you'll want to treat it with heat first.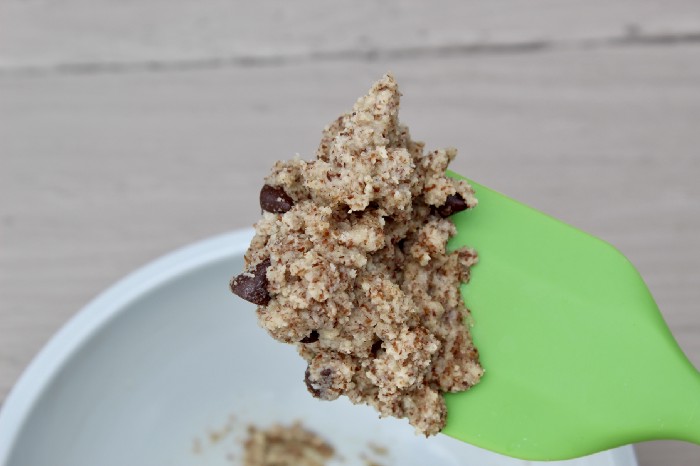 Dinner
A quick and easy dinner option is chickpea pasta. I love chickpea pasta specifically because it boosts the protein content. If you're trying to eat more plant-based meals and you want to sneak in some extra protein, this is an easy way to do so.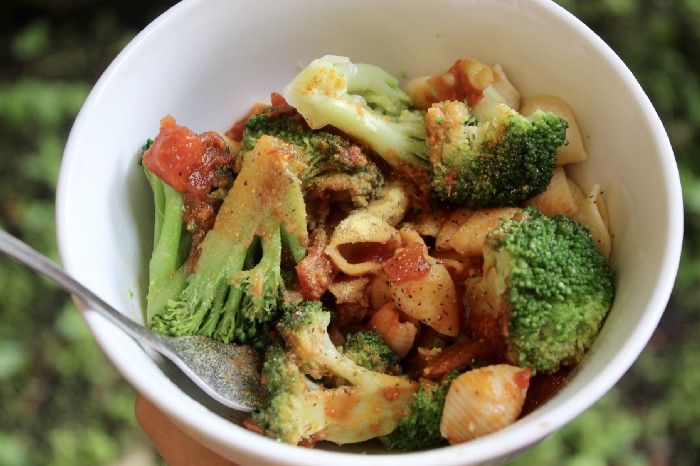 You can top it off with some marinara sauce and seasonings like black pepper, garlic powder, turmeric, and nutritional yeast.

A pro tip for beginner vegans is to put nutritional yeast in simple dishes like this. It has a delicious nutty/cheesy flavor and packs in vitamin B12, which is sometimes hard to get if you follow a plant-based diet.
---
Dessert
The night wouldn't be complete without some type of vegan dessert. Here's a simple idea for you.
Grab your favorite healthier cereal (my top two are Rice Chex and Cheerios). Then, add in some powdered peanut butter and cinnamon. Finally, pour in some unsweetened vanilla almond milk and mix it all together thoroughly.