Mahira Khan gives shoutout to her sari designer who adds more colours to idyllic wedding
Mahira Khan expressed her gratitude to Pakistani fashion designer Khadija Shah for crafting a bridal ensemble that she proudly showcased in additional snapshots from her extravagant wedding celebration, bringing joy to her Instagram followers. Wearing an elegant yellow sari, Mahira displayed her beautifully adorned henna-covered hands as she sat on a swing in a series of fresh photos she shared on the widely popular social media platform.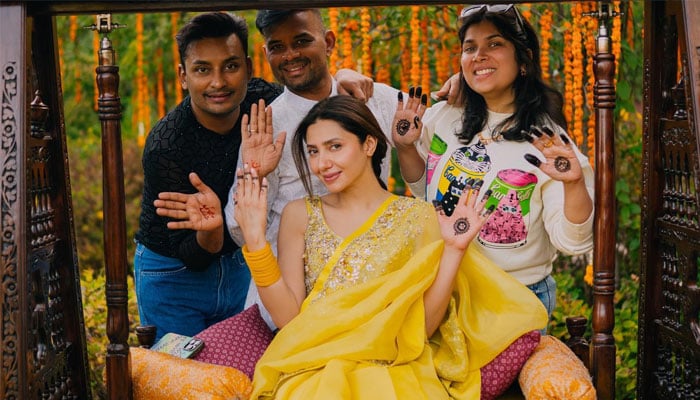 The actor known for her role in "Maula Jatt" continues to delight her fans with charming glimpses of her picturesque wedding that occurred last Sunday at a hill resort in northern Pakistan.
The acclaimed actress married her close friend Salim Karim in an intimate ceremony, leaving online viewers captivated by her elegant presence.
Mahira has already shared some of the most cherished moments from her wedding celebrations.
Today, she posted pictures of herself in a stunning adorned sari.
"I'm thankful to Khadija for creating this sari for me… I pray for you every day, K."
View this post on Instagram
For her mehndi application, she chose a natural, makeup-free appearance, accentuating one of her wrists with vibrant yellow bangles. It appears from her photos that she opted for a neat braid to prevent any inconvenience during the henna application.
Mahira's post quickly attracted adoring remarks from her followers. One admirer commented, "Mahira, you're the most beautiful."
Another fan wrote, "The bangles, mehndi, flowing hair, and that Mahira Khan smile – incredible."
A third fan, referencing a popular Indian movie song, added, "Alexa! Play 'Kabira (encore)' from Yeh Jawaani Hai Deewani."